All
Coffee shop tools to thrive in the "New Normal"
How joe's coffee-specific technology help owners keep up.
---
From contact-free to curbside pickup, the coffee customer experience has evolved to one of hyper-convenience. Companies like Starbucks have invested of $1B in reshaping their companies to win in an era of hyper-convenienece and win over loyal independent coffee customers.
Here's how we've evolved our technology to harmonize the in-person and digital experience, automate loyalty and marketing for coffee owners, and acquire new customers who would otherwise choose corporate. All to help take the grind out of running a coffee shop.
We're focusing on streamlining workflow
Shops with a high volume of mobile orders need to better harmonize in-person and digital orders without burdening baristas. Shops that didn't have a healthy volume of digital orders needed easy ways to ramp up digital sales and realize the growth and efficiency gains that come with it. Every shop needs to maximize their return on labor cost which means having as efficient a workflow as possible.
To meet that need we focused on two major initiatives:
Square Integration

- without changing your workflow shops can simply swap out their Square Online Ordering links with joe's digital menus and watch

digital sales increase up to 300%

powered by our automated loyalty marketing. As a bonus, shops save money on every digital order compared to Square's online ordering.


Joe Point of Sale - We built a coffee-specific POS with our built in order management system featuring peak-time-toggle, ability to manage orders across multiple devices, and fully configurable printer integration to suit the needs of cafes and coffee bars.
Harness data to power hassle-free loyalty marketing
The right message, at the right time, with the right incentive. That's the formula to staying top of mind for customers and reaching them at the moment they are craving something that you offer. Starbucks invests in sophisticated algorithms to predict when to send personalized messages to customers, but generic marketing tools from POS systems are too-limited and time consuming for shop owners to get the results they need to thrive.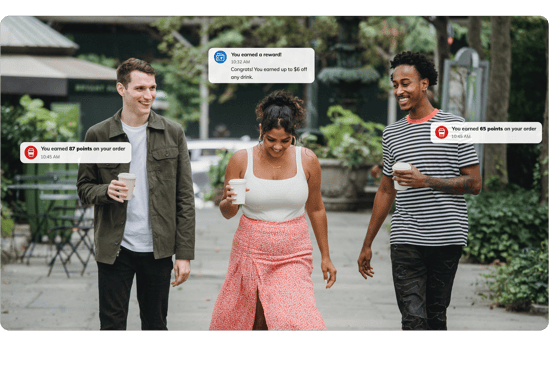 At joe, we have been working hard to better understand when your customers open the app, order, and what they purchase to better predict when they need a drink or snack and send them personalized messages across SMS, push, and email to bring them back to your shop with a hyper-convenient ordering experience. Our data shows that once a customer converts to mobile ordering, they increase their spend by 85% within 6 months and we're just getting started. The best part? Shop owners don't have to lift a finger. We automate the loyalty experience and because we focus exclusively on coffee behavior based on actual data - you can trust it will be a good experience for your customers.
In everything we do, we don't just focus on raising the top line - we focus on minimizing costs. Our loyalty program has $0 monthly cost and we're seeing a 1000% return on cost of rewards redemptions in the form of increased revenue which offer insight through our fully revamped reporting views. Loyalty programs offered by other POS systems increase in cost as people opt-in (over $100/month on average!). At joe, we don't penalize you for success to make a quick buck.
Make it easy to retain great baristas
A great customer experience starts with a great barista. It's not easy to build relationships, make great coffee every time, and hustle to keep the lines moving. Rising labor costs put the squeeze on owners and your most talented employees may be looking for opportunities elsewhere to earn more in a less demanding role.
We have overhauled our user interface for barista-facing tech to make it more intuitive for new baristas to train on the job, manage a high volume of orders, and set expectations with customers on inventory and estimate ready times on-the-fly.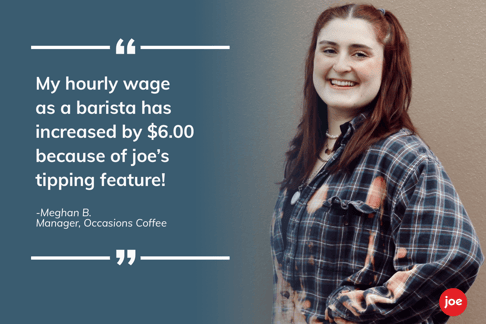 Our smart tipping features have increased tips by 300% (over $6 / hour increase!) at coffee shops utilizing the joe Register and customer satisfaction across the network is at an all-time high above 4.8 out of 5 on all orders.
Innovate to enhance customer experience
The average American consumes 3+ coffee drinks per day, but those orders change from weekdays to weekends and seasonally. We are continuously innovating to make it easier to save and reorder their "usuals" and will upsell complementary products automatically. We use data about how they interact with your storefront to inform more personalized and relevant notifications and offers to give you the same level of marketing sophistication that Starbucks provides - at no extra cost. Has it been a while since you've taken a look at the app? Check us out.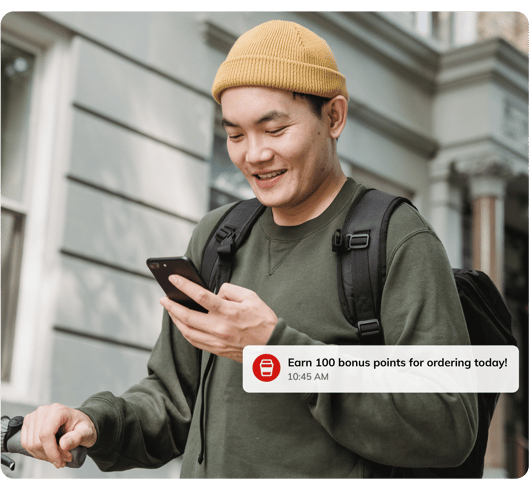 These tools are just the beginning. We are continuously collecting real-time data as well as feedback from coffee shop owners and customers to evolve our technology to fit the needs of the independent coffee community.
So whether you've just been introduced to joe or are already a joe partner, our technology and tools are built to help your coffee shop thrive. Estimate your potential growth through our growth calculator below, or reach out to a team member at success@joe.coffee.