Mobile Ordering
A New and Improved joe Consumer Experience
A comprehensive detail of the February 2022 updates to the joe Mobile Ordering consumer app.
---
Our recent update includes major improvements to app performance, discoverability, and unlocks new capabilities for automated loyalty marketing and new customer acquisition on the app.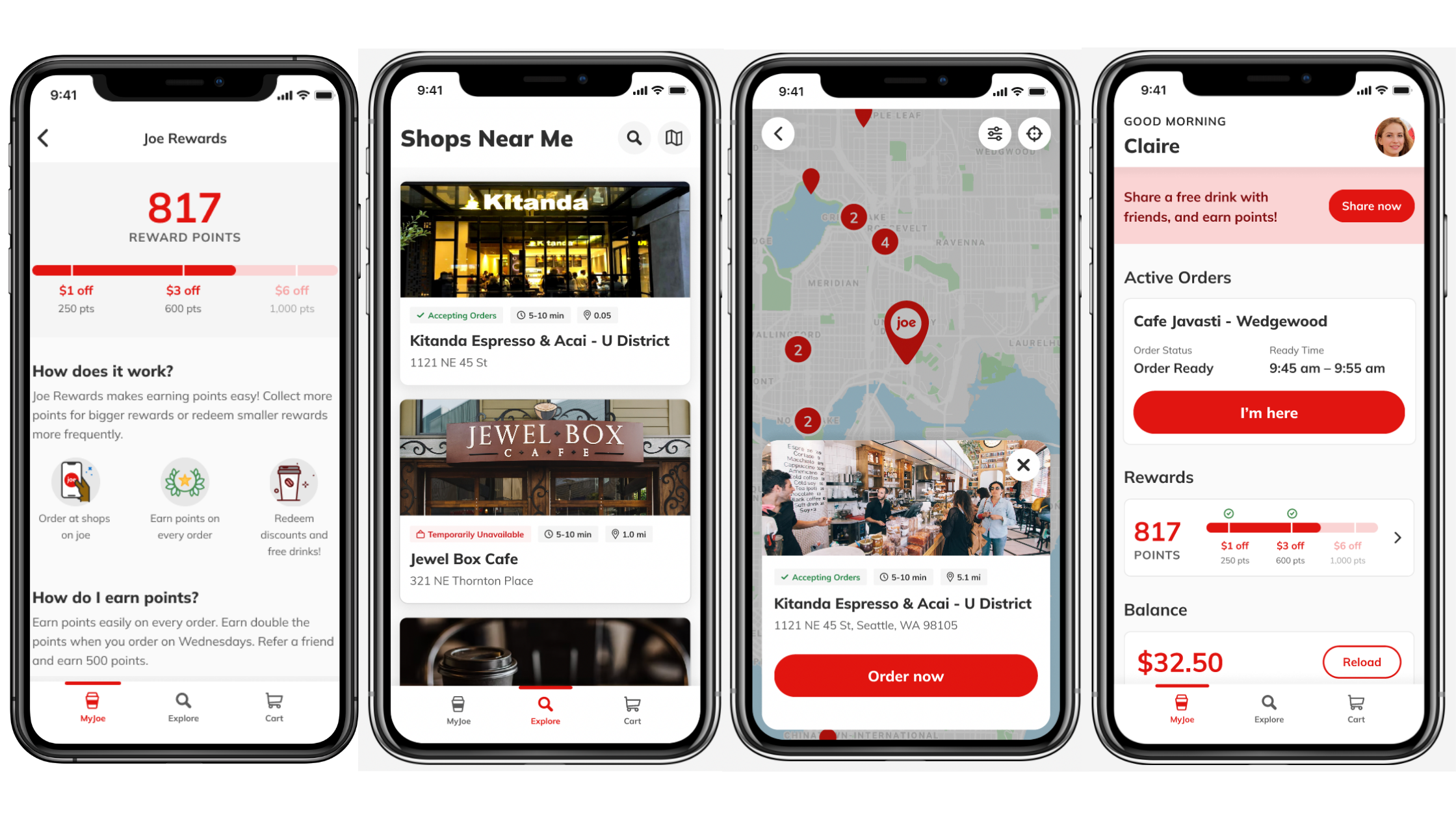 New & Improved Rewards & Loyalty
We've overhauled our joe loyalty program to earn you more per month from your existing customers, and keep your shop top of mind. Now users can redeem smaller rewards more frequently, or save them up for a free drink. Whether ordering to redeem a $1 reward, or ordering to earn a $3 reward, this new structure means customers always have a reason to visit your shop.
With this update to the consumer app, now promotion codes sent to customers via push notifications are automatically applied at checkout, eliminating an additional barrier for placing an order.
Finally, at the request of joe partners across the network, this update now limits reward redemptions to hot and cold drinks.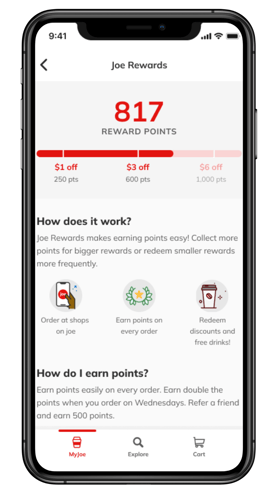 Updates to My joe
When customers open their joe app, they now are taken to their My joe page. From here, users have improved visibility into their rewards, remaining joe balance with the ability to reload funds, as well as see recent orders, and a button to refer a friend.
Additionally, customers can tap their rewards to see a full educational page about earning and redeeming rewards with the new loyalty structure.
Adding joe Wallet
The joe app now includes a My Wallet, accessible from a customer's My joe page. From here, customers can upload funds to their joe balance, purchase or redeem gift cards, and now link their bank account directly to joe through ACH integration.
Linking a bank account with ACH, customers avoid the service fee at checkout and can upload funds -- now as low as $10 -- to their joe balance.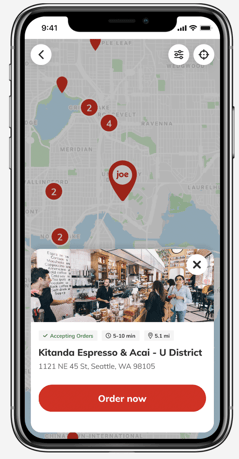 Improved Discoverability
We've made huge improvements to two areas in the app where customers can explore and find new shops. From the Explore tab, customers find shops near them, drag to refresh the page, and can use the filters to narrow the coffee shop selections based on preferences.
This update also includes enhanced mapping functionality that updates more frequently based on location.
Customer Cart & Checkout Flow
This latest release maximizes the customer experience by eliminated the need for extra taps, meaning your customers can get the coffee they love even faster.
In the new Cart tab, we've added functionality for customers to adjust their order easily, such as editing the item quantity or modifiers with a tap. When customers go to checkout, the checkout flow is even more intuitive with improved pickup and schedule options.
We've added a full page for upsell items making it even easier to increase your average ticket. With the new loyalty structure, customers can now choose which reward value they'd like to redeem right in the checkout screen.
Lastly, we've improved the active order status features for customers who have ordered curbside. With this update, customers can notify baristas that they've arrived prior to their order being completed.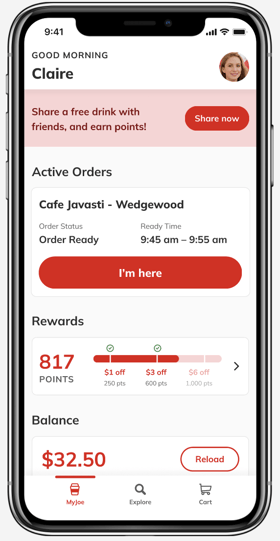 Customers will automatically see these app improvements when they update their joe Mobile Ordering application on their smartphone. Our joe Support Tool has additional support regarding the joe consumer app, or feel free to email a joe team member at success@joe.coffee with any questions.