Barista
12 Drinks Your Customers will Fall in Love With
Fall drinks have arrived! And whether you're a pumpkin spice pro, or a new shop owner, these Fall menu items are sure to win customers and boost revenue.
---
Autumn officially starts September 22nd, but we all know that when the calendar rolls over to September 1st, Pumpkin and hot drinks is what coffee consumers crave.
Corporate coffee saturates the market with over-priced sweet drinks and pumpkin everything! But thinking outside the "pumpkin box" with hand-crafted menu items and locally sourced ingredients can encourage coffee customers to ditch corporate for your indie coffee shop.
Whether this is your first 'PSL' season, or you're looking for new menu inspiration, we've crafted 12 fall drink ideas to add to your joe menu to incentivize impulse purchases and encourage larger ticket averages. And trust us, customers are sure to fall in love with them and you!
1 - Graham Latte

Ingredients: Chocolate + Honey + Cinnamon
This scrumptious latte is an easy addition to any coffee menu because these ingredients are probably already on your shelf! Warm and delicious, one sip of a Graham Latte will make you feel like you're wrapped up in a blanket, cozied up by a campfire.
2 - Harvest Mocha
Ingredients: Maple + White Chocolate + White coffee
We'll admit we can't claim this one as our own, but wish we could! The Harvest Mocha on the menu of joe partner Breaking Grounds Coffee in Heppner, OR is the definition of Autumn in a cup. Adding maple gives a seasonal twist to a popular "white on white". Try it hot or iced!
3 - Orange Blossom Latte
Ingredients: Orange blossom syrup + Cinnamon
Meet the Orange Blossom Latte from Le Petit Bistro in Hubbard, OR. This latte will blossom with the flavor of orange and floral notes. Pro tip: Top your espresso with cinnamon and then pour in your steamed milk to accentuate your latte art.
4 - The Herb 'N Legend
Ingredients: Sage + vanilla + topped with black sea salt

Joe partner Creekside Bean & Vine in Spearfish, SD has the return of their Herb 'N Legend. Made with vanilla and sage powder this latte is sure to put customers in the autumnal mood. Not to mention topping it with black sea salt is a *chef's kiss*
5 - Brown Bear Cold Brew
Ingredients: Brown sugar cold brew, topped with sweet cold foam & dusted with nutmeg & cinnamon
Doctor up your in-house cold brew for an easy way to reach those customers who love their iced drinks year round. Add some brown sugar, top with some sweet cold foam, and sprinkle some seasonal spices like nutmeg and cinnamon for a drink that is both beautiful to look at and delicious to sip.

6 - Maple Donut Cold Brew
Ingredients: Maple + White Chocolate + Irish Cream + Salted Caramel Cold Foam
Salted caramel is always a fan favorite when Summer turns to Fall, so try adding this flavor to your cold brew for an instant classic. Joe partner Sweet Olivia's in South Dakota tops their cold brew with a salted caramel sweet cold foam, (Yum!!) dubbing it the "Maple Donut".
7 - The Witch's Brew
Ingredients: Green Apple + Matcha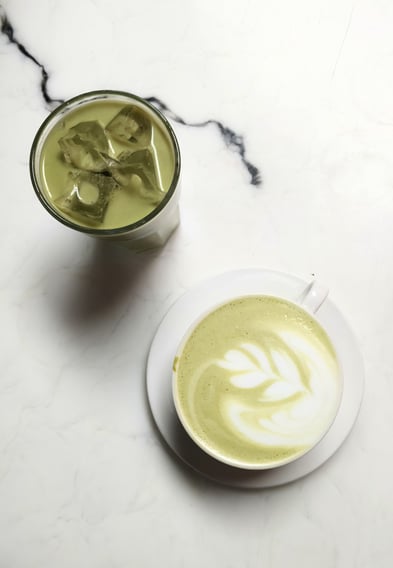 Tantalize your customers' taste buds with this magical brew! Green apple flavor adds a slightly sour & crisp taste to this earthy matcha drink. Feeling adventurous? Give it a try!
8 - Sweater Weather Chai
Ingredients: Chai + Maple Syrup + Brown Sugar + Cinnamon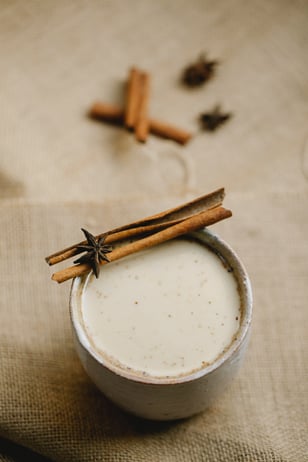 Chai's warm and spicy flavors already scream 'sweater weather'! And for those non-coffee drinkers, chai is a perfect menu item to get them in the Fall mood, and increase their ticket average. Add flavors like maple syrup, brown sugar and cinnamon to create an exclusive, limited, Fall drink.
9 - Green Goblin Energy
Ingredients: Blue Raspberry + Coconut + Pineapple + Red Bull
When customers feel like goblins on a Monday morning, this energy drink will give them the pep in their step they need for the week. The blue raspberry & coconut bring a sweet balance while the pineapple adds a nice kick. Combined together give this drink its electric green goblin color.
10 - Poison Apple
Ingredients: Blue Lotus (or other energy drink) + Green apple + Caramel Sauce drizzle
This menu item is inspired by the Poison Apple from joe partner All the Perks in Edmeston, NY Made with Blue Lotus energy, caramel, green apple and a coconut milk topper. This drink is reminiscent of a childhood favorite candy. Yep - the caramel apple lollipop where that always got stuck your teeth!



11 - Dr. Frankenstein
Ingredients: Dr. Pepper + Blackberry + Cream
For kids or other non-coffee drinkers, this trendy "dirty sodas" is a perfect option. Bring a traditional soda back to life by adding some fun flavor & cream. The sweet cherry flavor in Dr. Pepper blends well with the sweet and subtle tartness in blackberry syrup. The cream adds a magical touch!
12 - Butterbeer
Ingredients: Root beer + butterscotch syrup + vanilla cream.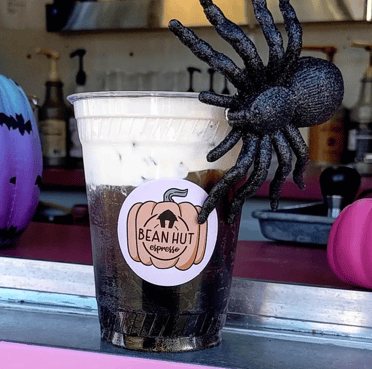 Muggles and Wizards alike will delight in an iced cold Butterbeer. Bubbles of root beer flowing with the buttery caramel like taste and topping off with vanilla cream will transport them to their favorite Hogwarts house. Photo from joe partner Bean Hut Espresso.
Crafting creative drinks and offering unique experiences is where indie coffee thrives. With technology and tools that empower your small businesses, like menu features and checkout upsell items, joe makes it easy your customers to try something new and increase your bottom line. Then our built in loyalty program does the work to automatically reengage them and bring them back in more often, all without you having to lift a finger.
See how much you could grow with joe Point of Sale through our FREE Growth Calculator linked below. And if you have questions about your menu, email us at success@joe.coffee.