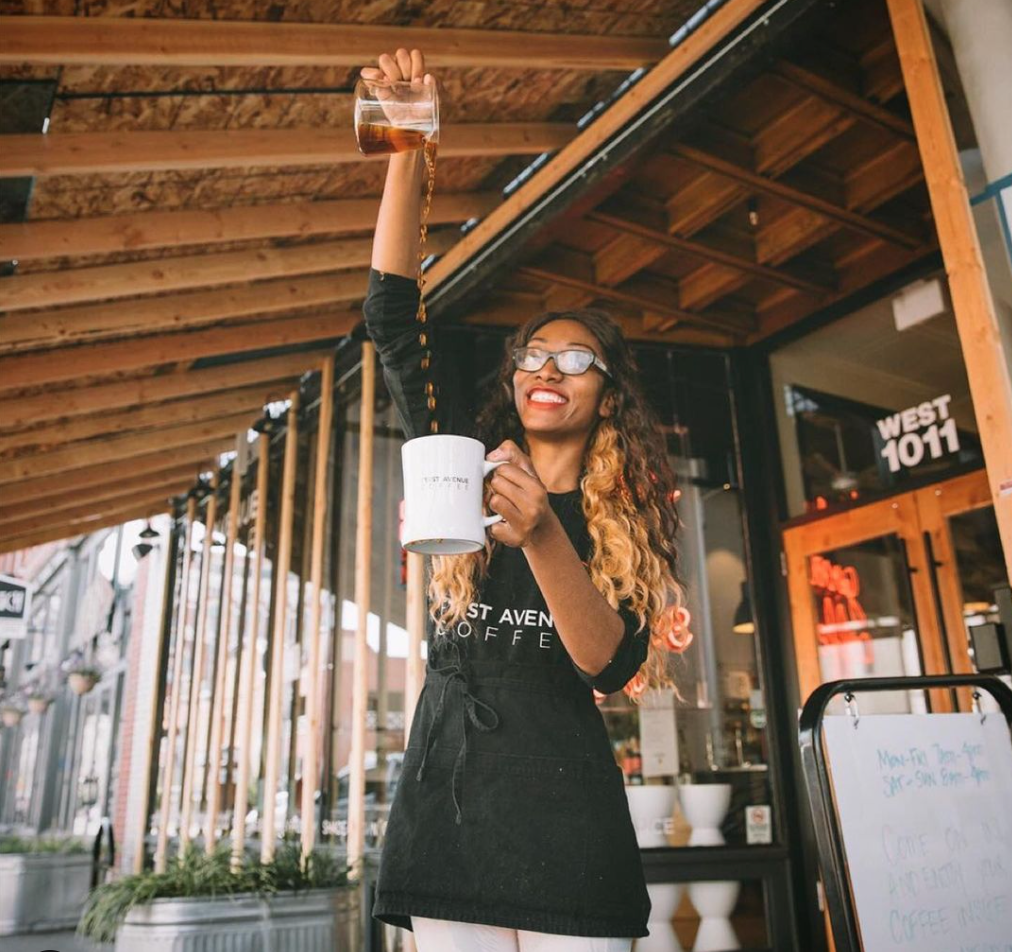 Background
Mobile and online ordering is re-shaping customer experiences for the entire restaurant category. While delivery is the name of the game for casual service restaurants, order ahead for pickup dominates as the most convenient and affordable option for coffee & snack shops.
As you compare pricing and evaluate what kind of online ordering solution provides the biggest bang for your buck, it can be challenging because of all the different kinds of pricing models out there. In this post, we'll unpack why pricing can be so tricky, how to calculate costs across solutions, and share our approach at joe so you can see how we're creating more value to coffee shops for less than any solution on the market.
Understanding "Card Not Present" Processor Fees
To make a profit, credit cards charge processors a % rate+ flat fee model. The rates change by credit card on an almost daily basis but generally look something like 2% + $0.10 for in in-person payments and 2% + $0.20 for "card-not-present" (mobile and online purchases).
In turn, payment processors add a percentage + flat fee to make their own profit above the cost they must pay to credit cards. As a result, the lowest cost payment processors on an online or mobile purchase will be around 2.9%+$0.30.
Some processors may charge a higher percentage rate and lower flat fee or vise versa. In either case, the % rate will not go below 2% and the flat fee will not dip below $0.20 otherwise every transaction would actually lose money for the processor.
For any business offering mobile ordering and online ordering, that rate of 2.9% + $0.30 is about where their own costs begin. To be profitable, they will either charge more per transaction to cover those costs and earn a profit to build a business, or they will rely on subscription fees, setup fees, and up charges.
Why that increased flat fee for "card not present" purchases is such a big deal for coffee shops...
When you do the math to understand costs as a % of total revenue the impact is bigger than you might think. For a business that has an average ticket of $30+ like you see in a restaurant, that $.30 isn't a huge deal and comes out to about 1% of the total sale. However, if that same rate is applied to a $4 latte for your customer that has ordered ahead so they aren't late for work - it comes out to 7.5% which brings the total fee just to process the transaction to about 10.4% (7.5% for flat fee + 2.9% rate).
Once you add in the monthly fees, setup costs, and additional fees, many shops are surprised to find out they pay over 20% for basic online/mobile ordering. Despite the high cost, coffee shops will have to pay extra for a rewards program and pay out of pocket for deals and discounts to customers. Even then, the customer experience won't match the "shop on every corner" convenience that corporate giants like Starbucks can offer.
Calculate the real cost of your current online ordering solution: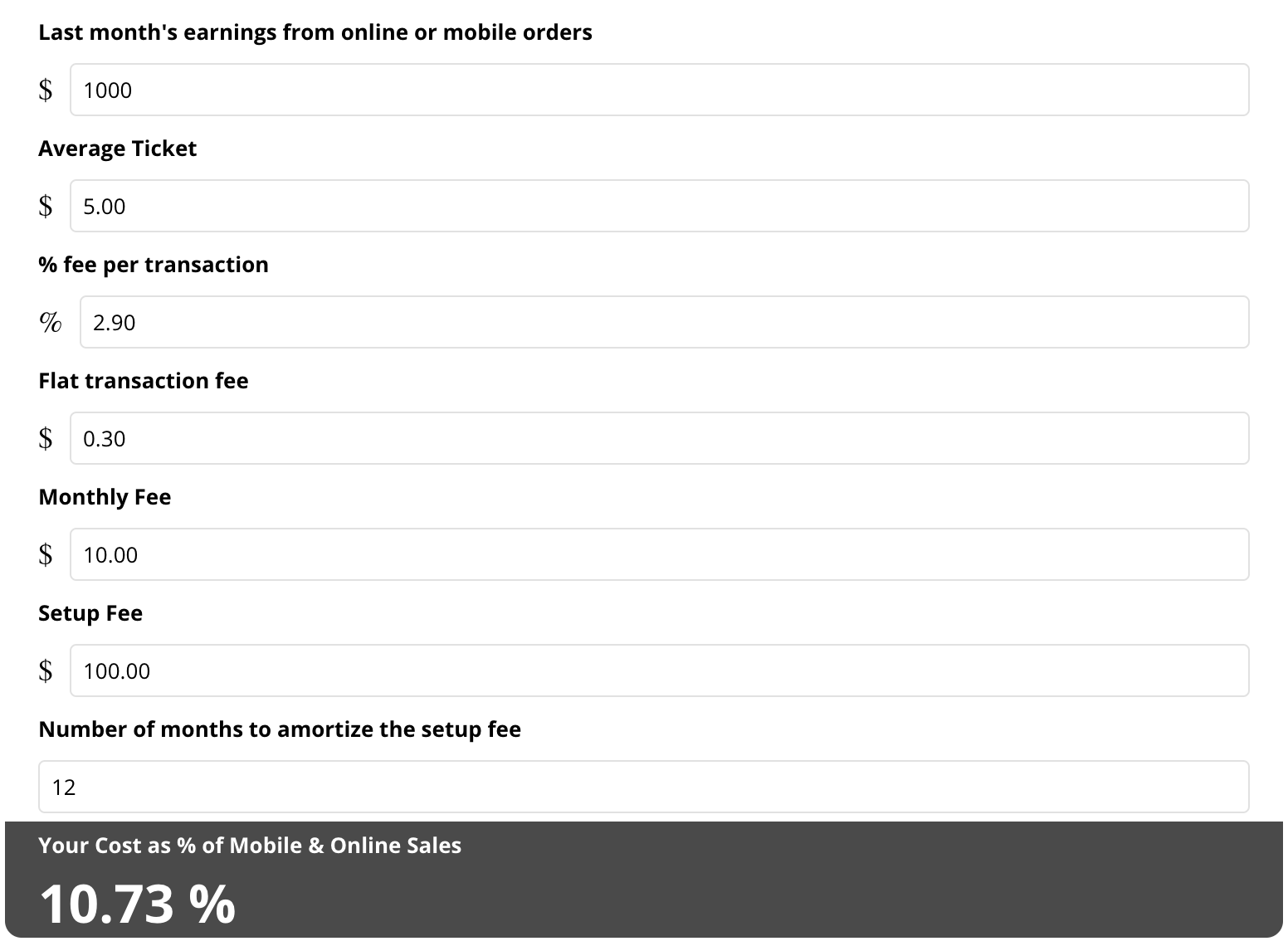 How to fairly compare pricing
At joe, we believe in keeping things simple and transparent. Unfortunately, pricing isn't always so straightforward so here are a few tips to make comparisons a breeze.
The first step in comparing costs is making sure you compare apples to apples. The best way to do that is to add up all of your costs including set up fees and monthly fees. Make sure you read the fine print with your existing online ordering solution and include:
Total paid in setup fees
Total paid in monthly fees
Total paid in processing cost INCLUDING flat transaction fees (

many owners don't realize they pay a higher flat fee for online orders

)
Commission rate
Account support costs
Once you add these costs (and potentially more) together, divide them by the total online sales you earned over the same period to get a % of sales number that you can use to compare solutions. To make things easy, use our free online calculator to get a true sense of cost on your existing online ordering solution.
Determine impact on growth
After you've calculated your costs as a percentage of revenue, consider which solution will make the biggest impact on your gross sales. At joe, we provide three major growth drivers that white label apps and point of sale providers can't match:
We automate and pay for deals and discounts to your customers
Access to the largest community of indie coffee lovers in the U.S.
Built-in rewards at no extra cost
Automated deals and discounts
Every coffee lover that downloads joe will receive discounts and deals designed to maximize sales on behalf of our partners. These offers are delivered based on each user's specific purchase behavior and delivered to them via the app, email and SMS.
We spend thousands of dollars every month refining and improving how these programs work. This ever-improving tech is a big reason why joe drives more sales to our partners than anyone else. Here are a few scenarios we tailor our deals and discount programs around:
Driving traffic during slow periods
Increasing average tickets
Increasing purchase frequency
Access the largest community of indie coffee lovers in the U.S.
As the most popular order ahead app for indie coffee in the U.S., joe has cultivated a community with hundreds of thousands of coffee-lovers. By joining the most popular mobile ordering experience for independent coffee you can be discovered by hundreds of thousands of local coffee lovers when they are away from their neighborhood favorite.
At joe, we spend the majority of our marketing efforts winning back coffee-lovers that are settling for corporate coffee. In a recent survey we conducted, 70% of people who order ahead daily through the Starbucks mobile ordering app said they'd switch to support small business if it was as easy and convenient. Every day, we win more of them over and send new customers to our coffee shop partners.
Built-in rewards at no extra cost
Loyalty programs are a powerful tool for maximizing your monthly sales per customer. At joe, we provide points-based rewards and continuously work under the hood to optimize it on behalf of our partners. With every passing day, we get better and better at using rewards to boost your bottom line.
Impact for our partners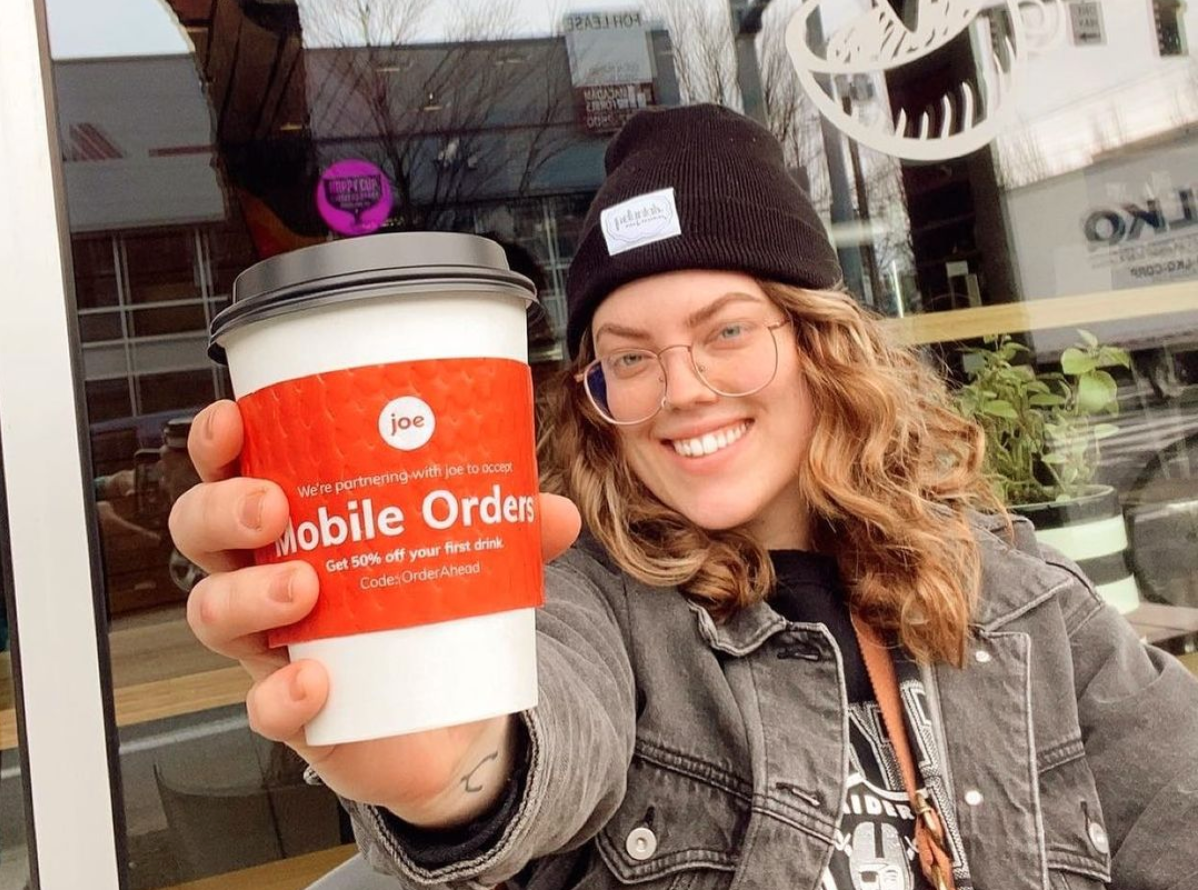 When choosing independent coffee is as easy and convenient as what corporate giants have to offer, small business wins every time. With every new partner that joins the joe network and each new feature we release, we take another step towards realizing our mission to give small business unfair advantage against corporate giants. Join the movement and see for yourself why coffee shops that switch to joe increase their online sales by 300% or more.