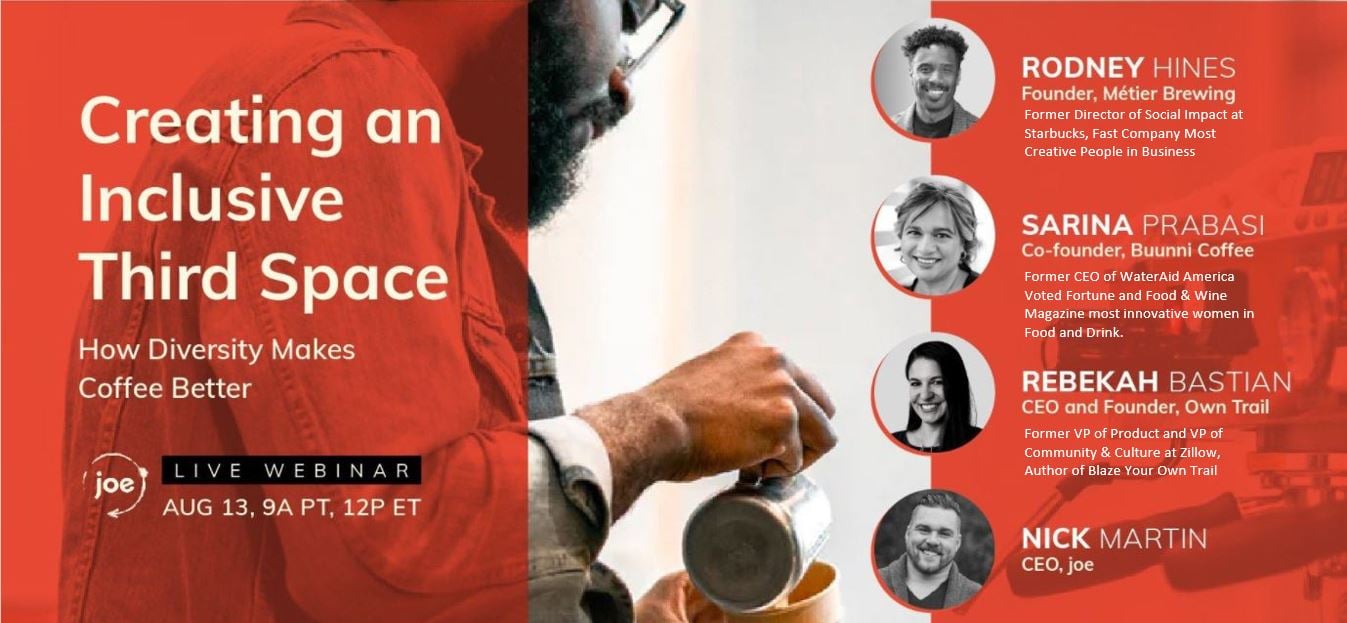 Background
With the strong emergence of the BLM movement, large corporations and small shop owners alike, rushed to make statements as an effort to join the larger conversation. But, what happens after the dust settles? And what can shop owners — without a background in PR and diversity initiatives — do?

Watch this FREE on demand webinar as joe co-founder and CEO, Nick Martin, along with Rodney Hines (founder of Metier and former Director of Social Impact at Starbucks), Sarina Prabasi (founder of Buunni Coffee and former CEO of WaterAid America and author of The Coffeehouse Resistance) and Rebekah Bastian (CEO and co-founder of Own Trail, former VP of Community and Culture at Zillow and Author of Blaze Your Own Trail) as they discuss how small businesses and coffee leaders can create meaningful change in their shops and communities.

We'll focus on the following:
-Why diverse teams are more successful
-Authentic activism and how it looks inside and outside of your business
-What creating an inclusive environment means and how it impacts your business and community
SPEAKER BIOS

Rodney Hines is CEO/Chief Mission Guy for Metier Brewing Company -- one of the few black-owned breweries in the country. Prior to creating Metier, Rodney served as the director of social impact for U.S. operations at Starbucks, leading the Company's strategy to launch and sustain "community stores" to support economic development in lower-income, diverse communities throughout the country. For this work, Rodney made #16 on Fast Company's 100 Most Creative People in Business 2017. In all of his work -- and in the development of Metier -- he hopes to inspire others to continually stop and consider who is missing or not represented.
Rebekah Bastian is an entrepreneur, writer, artist, tech executive, mentor, wife, mother and aerial acrobat. She is the CEO & Co-founder of OwnTrail and was previously vice president of product and vice president of community and culture at Zillow. Rebekah is the author of Blaze Your Own Trail, is a contributor to Forbes and is a frequent speaker on social impact, career navigation and corporate diversity.

Sarina Prabasi is a nonprofit leader, author and entrepreneur. She served as the Country Director of WaterAid in Ethiopia, and most recently as the CEO of WaterAid America. A tribute to her vision and leadership, Sarina was named by both Fortune and Food & Wine magazines as one of the Most Innovative Women in Food & Drink, and honored by the New York Business Journal as a 2016 'Woman of Influence'. Originally from Nepal, Sarina is now based in New York City where she is the Co-Founder of Buunni Coffee, (pre-pandemic) a thriving business focusing on coffee and community building. Her first book, The Coffeehouse Resistance, was published in 2019.