Enhanced Web Ordering Experience
joe is more than just mobile. We take pride in being the most popular online ordering platform for independent coffee. Many customers first look online for a new coffee shop, searching "Coffee shops near me". So we've focused our attention on converting those browsing customers into first time purchases.
As a result in the early April, we released a refreshed look on order.joe.coffee aimed at delivering a world class experience for coffee lovers.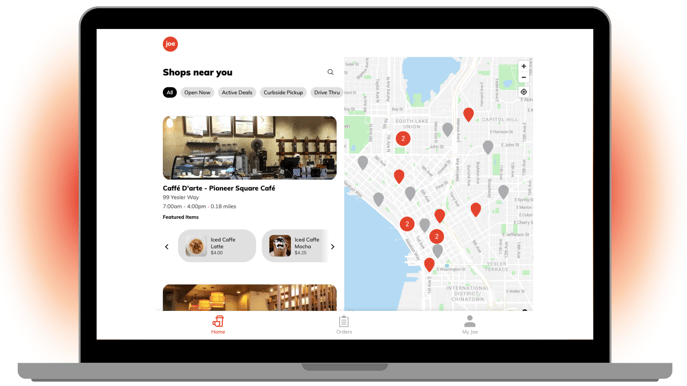 Upgraded list and map view of shops near you, based on location
Highlights Include
This revamped web ordering experience will capture and convert more users to loyal joe customers. We know that finding the right shop is important. Now, users can scroll a list view as well as a map view of all shops nearby on the main homepage!
With the upgraded

side by side cart view

, u

sers can add items, and make edits to their cart, is visible in the menu on the right hand side. No more flipping back and forth between their cart and the shop's menu!

Updated side-by-side menu and cart
We know that to guarantee the highest quality of service, communication between shops and customers is key. Now after placing their order, web users will receive text message notifications on their order status ensuring a successful pick up experience. From these notifications, customers can directly download joe for their next order and to manage their rewards.
Win new customers and keep your regulars coming back by adding your upgraded custom online menu link to your website, social media, and Google Business page.