These 11 Seattle Coffee Shops Are Hidden Gems
9 must-visit indie coffee shops in the greater LA area. From eclectic spaces to mission-driven owners, read about these unique shops then visit them all!
---
In this series, the joe team highlights hidden gems in the Seattle Local Coffee Market ahead of Seattle Coffee Week. For more content like this follow us on instagram.
Must-visit coffee shops in Seattle
Seattle is a Mecca for delicious local coffee. On just about every corner there is an inspired new upstart cafe or a decades-old neighborhood favorite - each with their own unique spin and philosophy. In this article, we picked 11 hidden gems that truly embody community and supporting local in every way possible. You can order ahead at these coffee shops and over 200 more Seattle favorites on the joe.
Resistencia Coffee
1249 South Cloverdale Street, Seattle, WA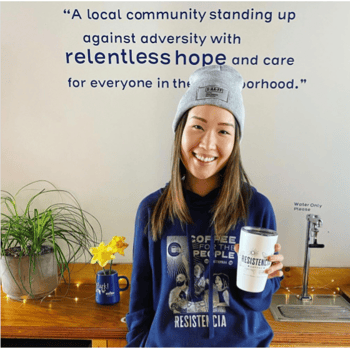 Photo Courtesy of Resistencia Coffee
Resistencia Coffee defines themselves as, "a local community standing up against adversity with relentless hope and care for everyone in the neighborhood". Resistencia Coffee is a great example of LOCAL. From using a coffee roaster just up the street, Cafe Umbria, to their barista program, which hires and trains diverse residents of South Park, to become baristas in a mostly white industry. Even their pastries are thoughtfully sourced from BIPOC (Black, Indigenous and people of color) vendors in South Seattle. They even held several pop ups this summer highlighting local food vendors in the community to provide access to additional food options during difficult times.
Serving Coffee is not just about the tasty beans but the sense of home and community it provides when you walk in to see the bright familiar barista faces. Next time your in South Park make sure to drop in and grab their delicious Xingona Latte.
Cafe Red
7148 Martin Luther King Jr Way S, Seattle, WA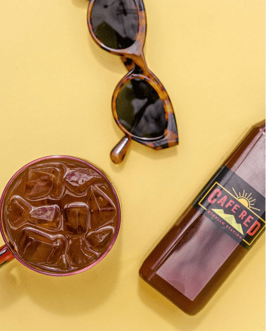 Photo Courtesy of Cafe Red
Cafe Red has been serving the local community since 2015, when they first appeared on the Seattle scene as a bicycle - powered coffee cart. As Cafe Red continued to grow, they quickly expanded to a shop located in the South Seattle neighborhood. Owners Jesiah and Haley wanted to open a safe and inclusive space for neighbors to gather and get to know each other. In the middle of the pandemic, they decided to make a switch to all plant based products in their shop. Not only are they reducing their carbon footprint through using plant based products, but they are also using local ingredients whenever possible to provide delicious food to their community.
Cafe Red continues to be a staple in the South Seattle community. When posed the question, "What does being a local coffee shop mean to you?", co-owner Jesiah Wurtz said, "To us it means creating a space where anyone can walk in and feel like they belong. A space where we are intentional about using local products and ingredients, hiring from within the community, and putting money back into the hyper-local economy in as many ways as possible. Being a platform for whatever cool things people in the community are doing. A lot of community members have really appreciated having a space to meet and build with their neighbors."
Be sure to check out their delectable vegan goods & coffee the next time you are in South Seattle.
Cloud City Coffee

8801 Roosevelt Way NE, Seattle, WA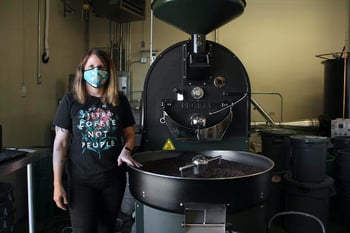 Photo Courtesy of Cloud City
Cloud City Coffee is an equalizer in the community. A cafe where neighborhood members of all ages and backgrounds gather over a delicious cup of coffee. A place where customers are put first and staff sincerely enjoy serving.
In 2002, Jill Killen, owner of Cloud City, took a huge leap of faith on a space and an idea to bring a coffee shop to the Maple Leaf neighborhood of Seattle, Washington. She knew the neighborhood well and was positive her vision would fit in this community. So risking her savings, she took the plunge and opened Cloud City Coffee.
West Seattle Grounds
2141 California Ave SW, Seattle, WA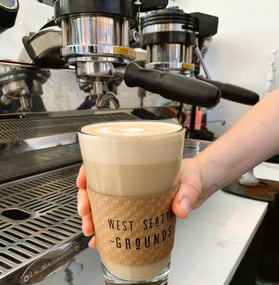 Photo Courtesy of West Seattle Grounds
West Seattle Grounds is a locally owned and operated business in the heart of the Admiral neighborhood. Their mission is to serve the local community and "stay grounded". West Seattle grounds had a goal to create a positive impact in the community, and to create a safe & inclusive environment for their customers. Not only do they serve coffee, but WSG hosts live music events and Art Walks that showcase local talent.
Through donating extra pasties at the end of the day, hosting back to school supplies drives, & giving discounts to local businesses, West Seattle Grounds has become a staple in the Admiral neighborhood.
Be sure to try out their "Just a Kiss" Mocha - a raspberry mocha served with a Hershey's Kiss.
Queen Bee Cafe
8805 Points Dr Ne, Clyde Hill
1002 Lake St, Kirkland
2200 E Madison St, Seattle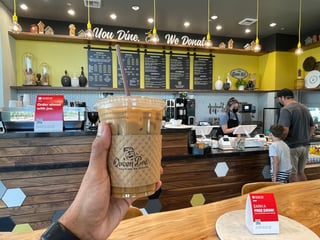 Photo courtesy of Queen Bee Cafe
"You Dine, We Donate"
If you ever find yourself in Downtown Seattle, Kirkland, or Clyde Hill, make sure to check out Queen Bee Cafe!
The inspiration behind Queen Bee is the owner's mother. He wanted to create a cafe in his mother's legacy, who continued to provide support for their family as a single mom. Queen Bee represents and is dedicated to all the strong women & mothers in the community.
Queen Bee provides a warm comforting feeling when entering the shop through the smiling faces of the baristas and the welcoming ambience. It was founded on creating a positive social impact on the community, that is why they are a not-for-profit organization. Meaning, that 100% of their proceeds go to a charity each year that helps make a difference in the lives of the community. Not only does Queen Bee donate their proceeds, but they also locally source their products to reinforce supporting local businesses.
Next time you are near one of these three locations - make sure to try their traditional English Crumpet.
Union Coffee
2407 E Union St Suite B, Seattle, WA 98122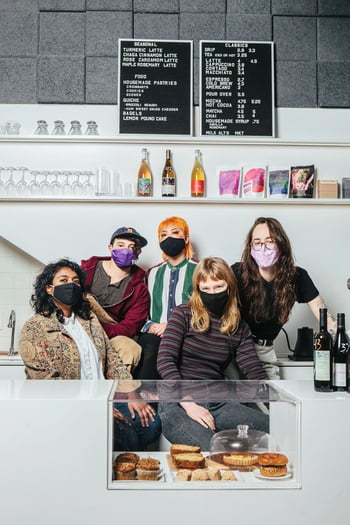 Photo courtesy of Union Coffee & Wine
Union Coffee is a Queer Woman of Color Owned coffee shop right in the heart of the Central District neighborhood. As a loyal customer to Union Coffee and community member in the CD I always enjoy the energy the staff and owner Geetu provide the moment you walk in through the door.
As Geetu mentioned on Union Coffee Instagram account, this cafe ownership journey means more than we can imagine, as she states "It's given me a safe platform to speak my truths and create a community with our neighbors and team that make me excited to come to work everyday. Thank you for supporting this lil cafe and the team. Every time you come in, you give me the greatest gift of all, the opportunity to do the things I love, making coffee and connecting with people (and their pets 🐶). ⁠"
So when you drop in and grab your coffee, make sure to to enjoy their beautiful space or hang out outside in their patio. The sleek white walls provide an ambiance like no other and you will also have the opportunity to select an array of wine options displayed on wine shelves as you enter. If you stay long enough you may even pair your coffee with a nice glass of wine.


Santo Coffee
1325 NE 65th St. Seattle, WA 98115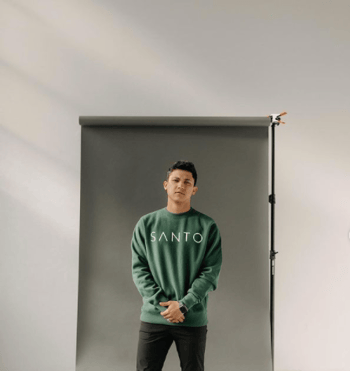 Photo courtesy of Santo Coffee co.
Santo Coffee Co. is a third-wave coffee collective new to the Roosevelt neighborhood of Seattle. It's owned by Sounders Icon very own Fredy Montero. who now has returned for the 2021 season.
Santo's startup shop compromised of a family of driven people with a passion for the craft, palates for quality, and love for community. My first experience at Santo Coffee was by far one that I won't forget. They love the craft of coffee and supply it in a modern environment with comfortable couches to lounge, tables to do some work or great space for a morning walk or date.
They believe in the following "Our attention is focused on more than just brewing a beautiful cup of coffee with the perfect medley of aroma, flavor, and consistency. We understand and respect the farmers' hard work of bringing the coffee seed to the roaster, who then carefully and diligently brought some of the freshest green coffee you can find to its wonderfully roasted state."
Ugly Mug Cafe
1607 W Dravus St, Seattle, WA
1309 NE 43rd St, Seattle, WA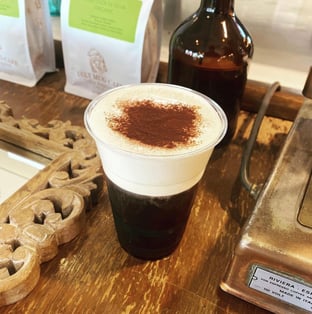 Ugly Mug first arrived to the Seattle coffee scene in 1995 in the University District. At the time, the future owners worked at the shop as baristas and they loved the atmosphere of the shop.
In 2010, the former baristas decided to take on Ugly Mug and become owners. Since they took on ownership, Ugly Mug has expanded to another location nestled in Interbay.
As a customer, it is easy to tell the amount of care and effort that goes into the coffee & food with each sip and bite. Throughout the years, Ugly Mug has continued to go above and beyond in their customer centric obsession by providing a welcoming atmosphere and delicious coffee.
Visible Coffee Roasters
12348 NE 115th Pl, Kirkland, WA 98033

15118 Main St #700, Mill Creek, WA 98012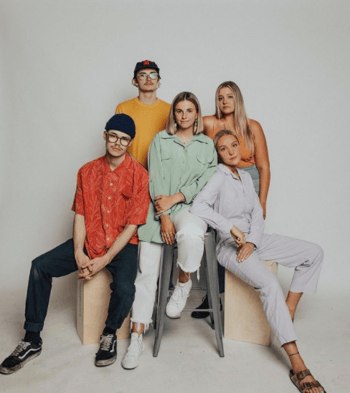 When you think of young minded entrepreneurs looking to shake things up in the coffee industry I think of Visible Coffee roasters. Within a few months of opening up their first shop they have expanded from one location to two and have a third location in the horizon.
They opened their shop with the core value of, "Providing a safe, loving, thoughtful and encouraging environment, where all of our customers and employees feel warmly invited in for a great experience with all in the organization, while enjoying craft, house-roasted coffee. It's a chance to connect and build relationships with everyone involved. You are known, You are heard, You are loved, YOU are Visible."
Their locations in Kirkland and Mill Creek provide a great ambiance to lounge and do some work or simply enjoy your coffee. Looking to make sure everyone feels heard, seen and safe in their coffee shop.
How many shops on the list have you tried? Who do you want to be featured next time? Let us know at success@joe.coffee.