Mobile Ordering
Sips Coffee grows revenue with joe Point of Sale
How this Wyoming drive-thru grew revenue 17% by offering a hyper-convenient ordering experience through joe.
---
Highlight
Adopted joe Point of Sale and increased revenue by over 17%
Highlight
Added over $6.4K per month in new revenue
Highlight
Saving over $150 per month in loyalty and marketing fees
Meet Sips Coffee
Drive-Thru coffee stands are meant to be fast and convenient - letting customers stay in their car as they wait in line and again for their order to be created. But some innovative coffee stand owners like Kaylynn Hensen of Sip's Coffee in Glenrock, Wyoming are taking it one step further. "

When we were launching Sips, we wanted order-ahead to be a big part of our business. We made the decision to dedicate one side of our double-sided drive through to mobile orders only."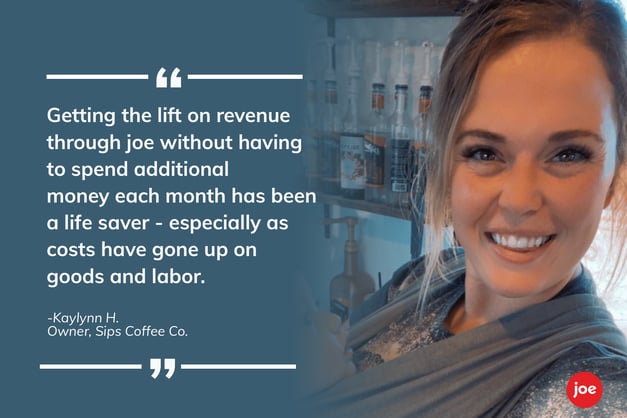 Kaylynn Henson, worked closely with their relationship manager at joe to implement a tailored mix of signage and marketing promotions to get the word out and quickly educate the customer base. Soon, Sips grew into a healthy and thriving coffee stand doing almost ~$28K per month with over 35% coming via mobile ordering.
Seeing an opportunity
When the joe POS came available Kaylynn was eager to extend the digital rewards program that was making such a big impact on her digital ordering business to in-person customers and expand mobile ordering even further.
"Customers that used mobile ordering loved it and we saw them more than just about any other customer both in-person and via order ahead. I wanted to expand that more broadly to drive our next phase of growth and streamline workflow for baristas."
After running on Square for a couple of years, Sips switched to joe and saw an immediate lift by adding the joe POS and integrating a coffee-centric rewards program across in-person and digital business. "Customers that had heard about joe, but were hesitant to try mobile took the leap once they knew they could earn rewards in-person and when they ordered ahead. We still see them the same as usual in-person, but now they are ordering ahead when they are running behind and it's made a big impact."
Feeling the impact
Kaylynn was exactly right on her instinct and the numbers back it up. Year to date, her in-person sales are up slightly, but mobile orders jumped an additional $6.4K per month adding a 17% increase in total sales by adopting the POS. Even sweeter, she is saving over $500 in monthly fees that they would have to spend for similar features from another POS.
"Getting the lift on revenue without having to spend additional money each month has been a life saver - especially as costs have gone up on goods and labor."