Operating During COVID: 5 reasons to go mobile only
5 reasons your shop should go mobile only to accept orders and payment.
---
This blog is a part of the series 9 tips for pick-up only service. This article gives 5 reasons to go mobile-only now and provide the safest possible transaction for both your customers and staff.
5 Reasons to go mobile only
Whether cafe, coffee bar, or drive thru, going mobile only at your shop is the safest way to serve your customers and keep your doors open. Here are 5 reasons to go mobile only, as well as joe partners across the US who have taken that step.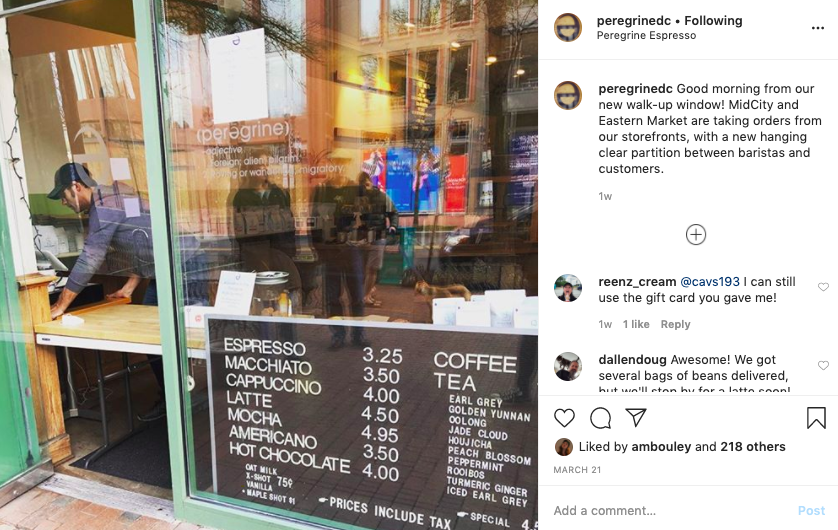 (Peregrine Coffee has gone mobile only at three of their five D.C. walk-up windows)
1 - Contact Free
Going mobile only with joe eliminates the need for any cash or card handling because customers order and pay ahead through the app. With designated pick up zones for baristas to pass off the order, this is the safest way to serve your customers.
2 - Faster service
When customers have the ability to order ahead this limits additional wait time. As a result, you're able to serve more customers, drive additional revenue, and also limit the time of person-to-person interaction.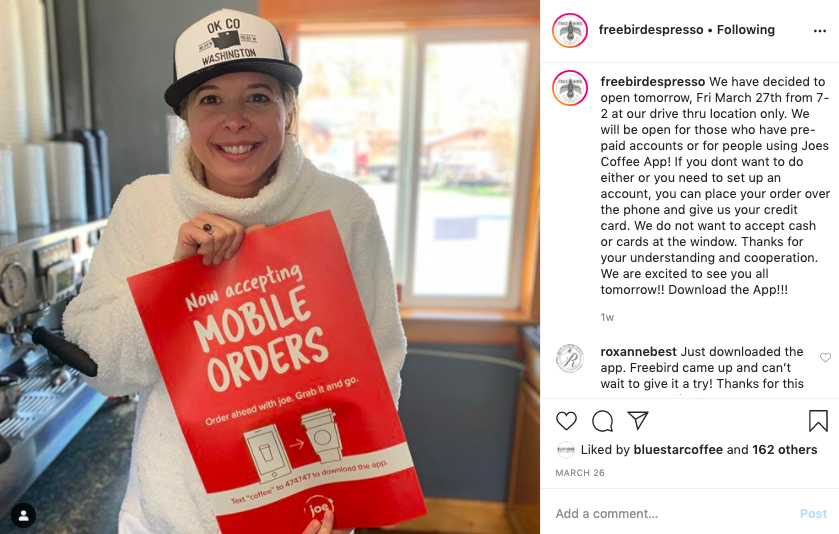 (Freebird Espresso re-opened their drive thru after deciding to go mobile only for additional safety levels for customers and baristas)
3 - On-going promotions to bring in more business
It is our mission to stand up for indie coffee, especially when the going gets tough. To help with these difficult times, we are providing weekly promotions to help drive user downloads and bring in new mobile customers to your shop. These promotions do not expire, plus we provide all the social media images and captions needed for you to easily publish and promote. We are in this together and want to see you thrive.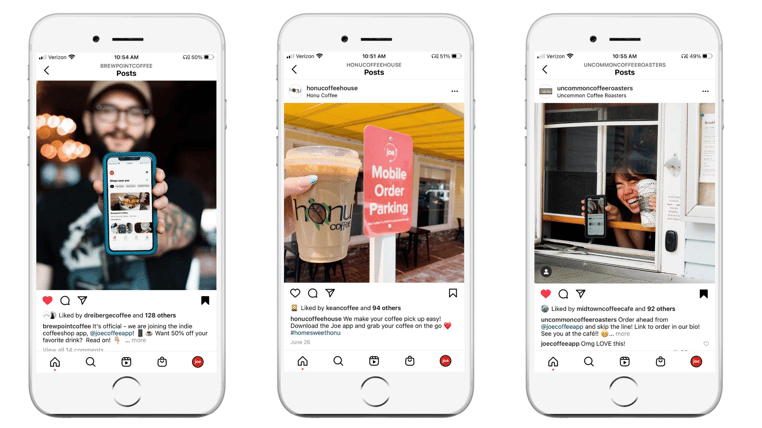 (Examples of our COVID-19 joe-sponsored promotions)
4 - Features that fit with your shop
joe is built by baristas specifically for the coffee industry. We understand that the current health crisis is hitting small businesses hard, especially indie coffee. Which is why we've built features like curbside pick up, tipping to baristas, and customized menu modifiers to help capture customers and maximize your revenue.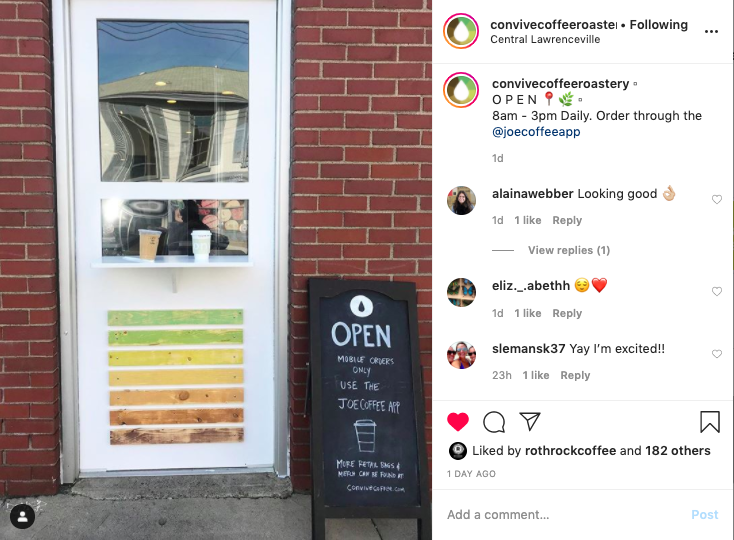 (Convive Coffee created a front door walk-up window and has committed to going completely mobile-only)
5 - Dedicated account support to help reach your goals
We are in this together even after the public health crisis calms down. Dedicated joe Growth Program Managers team up with you each month to set goals, create customized marketing strategies, and help you hit the revenue you want to reach. When you grow, we grow.
To get started with joe, email us at success@joe.coffee! Our team will connect with you and can have you accepting mobile orders in as a little as 24 hours.