As part of our ongoing effort to empower independent coffee shops with resources, tips and best practices to adapt during the COVID19 crisis, we are interviewing a series of business owners that are finding ways to safely serve customers and protect baristas.
How Necessary & Sufficient Prepared for COVID-19
When COVID-19 initially reached the US, Kate Vrijmoet, owner of Necessary & Sufficient Coffee didn't wait to make an action plan for her shop. Even though she is located in a neighborhood of Chicago, she had contacts in the Seattle area who were first-hand experiencing the impacts of COVID. Hearing their stories, Kate knew it was only a matter of time before her community would be hit by the spread of the virus.
In early February , far ahead of the rest of the country, Kate responded. Creating a 5 Phase action plan, she retrained her staff, and modified operations to ensure when the pandemic did reach Chicago, their doors (or rather service window) would be open.
In this next video of our series, joe Co-founder Brenden Martin, sits down with Necessary & Sufficient Coffee owner Kate Vrijmoet to learn about the actionable steps she and her crew took to stay open and provide stability for her community.
COVID in Chicago
As Kate describes, in Chicago this pandemic is invisible to a lot of people, however, the threat is entirely real. As owner, she has to take things serious for the safety of her community and the longevity of her business. While many looked at her with skepticism, especially at the beginning, she carried on with additional safety measures.
Changes to operations
First steps that Kate and her team made was creating the shop's 5 Phase Plan. This plan was posted for the public and detailed the modifications they were making to internal practices, as well as sanitization precautions and changes to operations.
Necessary has a small storefront that was converted to a cafe, with a traditional Chicago-style labor workers window. This window already offered a low barrier for entry for customers to order, next step was closing the cafe. Other changes included:
Open a second window - one for ordering, one for pick up
Going cashless and promoting contactless ordering with joe
Eliminating some programs like the reusable cup discount
Creating pay-it forward programs for customer to contribution to
Adding a filter over windows to protect from airborne transmission of the virus

Building Trust with Staff
In this conversation, Kate continues to return to the importance of communicating with her staff, in order to keep them healthy and feeling safe. They are the heart of the business and work directly with the community every day.
When hired, Kate's team all commit to a "working agreement" that includes expectations of staff for harmony in the workplace. So for staff safety, the team added amendments to this working agreement including:
Taking temperature twice a day
Following CDC guidelines
Wearing a mask, gloves, and going above and beyond with sanitizing
Kate also committed to the mental and emotional wellbeing of her staff by:
Doubling down on team meetings each month to increase communication
Scheduling all staff for only 4 work days a week
Refusing service to customers who choose to not wear masks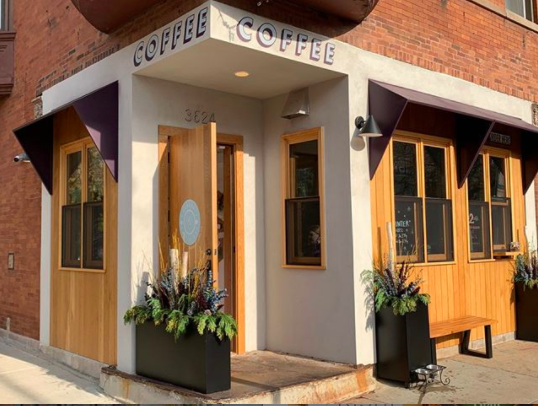 Communicating with Customers
Kate sees the positive effect her small business has on the Logan Square community during this time, providing a small sense of normalcy. So she's taken the additional steps to protect that bit of normalcy in shop, and communicating those safety measures with the public. A few key highlights include:
Using positive phrases about safety to the public such as "We're happy to serve you when you come back with a mask"
Keeping masks available for sale at the shop. Kate purchases disposable masks from Lollicup, and reusable cloth masks from Faire.com (Mention Necessary & Sufficient as a referral!)
Publishing the 5 Phase Plan for the community to view
We are in this together. The joe blog has additional resources around operating during the COVID-19 pandemic including more 1:1 interviews and a 7 steps to going mobile only.
To provide the safest, contact-free ordering option to your customers, email us at success@joe.coffee to get started with joe. We can have you accepting orders in as little as 24 hours.