Earn 2x rewards in-person with these joe features
Coffee lovers rejoice! joe recently launched two new features for the most rewarding experience whether ordering in-person or through the joe app.
---
If you're a loyal coffee lover who's go-to coffee shop is using joe Point of Sale and mobile ordering, these updates are for you!
Earn More When You Pay With A Digital Gift Card
Rewards aren't just for mobile ordering any more 🥳. Now, you can earn double points compared to standard in-person purchases when you pay with a digital gift card. Plus, get additional bonuses when you complete weekly challenges (view the "Rewards" tab in the app).
How to purchase a gift card
Tell your barista you would like to purchase a digital gift card. Once the purchase is complete, your balance will be available for you to use when you order ahead via the joe app or when you order in-person using your secure PIN.
To access your PIN, go to the "Wallet" tab and tap PIN to view your unique code. We'll also send you an SMS when you request to pay in-person using your digital gift card.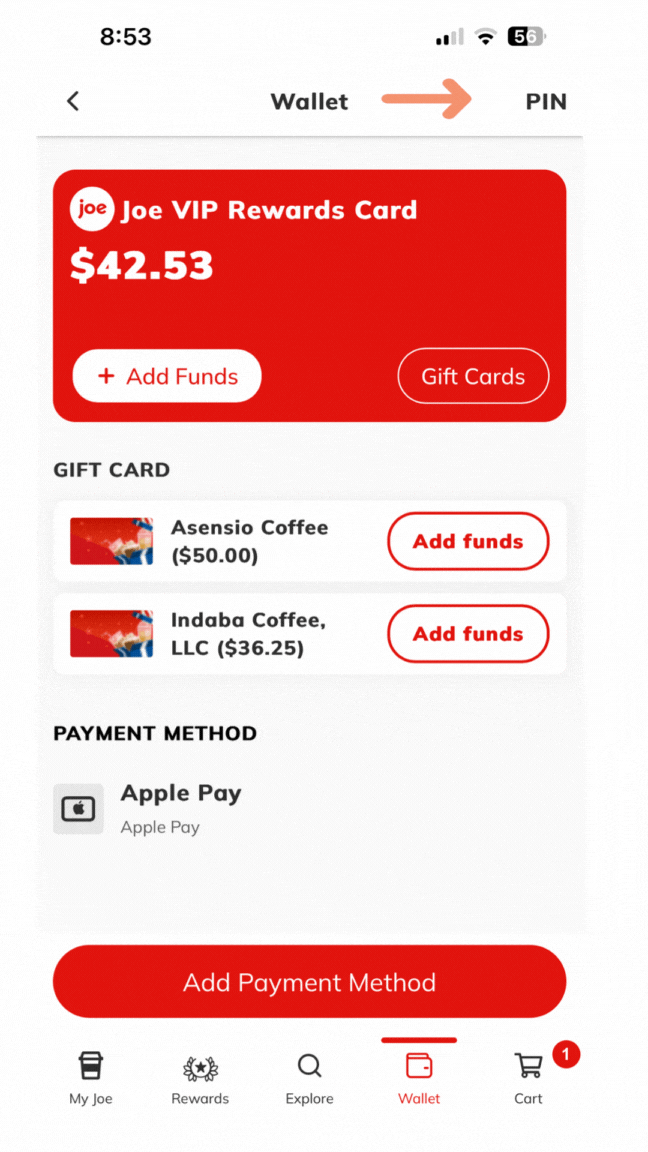 How to use the digital gift card
The best part of a digital gift card is that you can access it from anywhere without any physical card required.
To use the card when you are ordering in-person, enter your phone number at any point during the order. When it's time to pay, let the barista know you will be paying with your gift card. Enter your PIN to verify it's you (we'll send you a text just in case you don't have the app ready to go) and just like that, you've paid for you drink. No cards, app, or cash required ✨.
WATCH: How to pay with a digital gift card on in-person orders
But that's not all...
Redeem joe rewards in-person & on mobile
Yep- you read that right. Now that you're racking up rewards by paying with your digital gift card, redeem them in person too! Redeem $1 off, $3 off, or $6 off any drink in-person at any shop using the joe Point of Sale.
Check out the video to see just how simple it is:
Bonus tip! Download the joe Coffee App to track your rewards, earn bonus points through challenges, receive exclusive offers, and more!
FOR COFFEE PROS:
Are you still using technology built for restaurants instead of coffee shops? Tap the link to learn more about the joe Point of Sale or schedule a demo with a joe representative.
joe POS
Supercharge in-person rewards and loyalty
joe Point Sale with built-in loyalty marketing effortlessly grows your most loyal coffee customers.