All
5 Tips for Marketing Your Coffee Shop on Social
5 Tips for Marketing Your Coffee Shop on Social
---
Now, more than ever, social media is playing a tremendous role in how coffee shops cultivate loyalty and connect with new customers in their area. As a company that is hellbent on empowering independent coffee shops, we thought it prudent to share a few tips on how to really make a difference through your social channels.
1.) Video is your best friend
The web isn't just becoming more visual, it's now more oriented to video than ever. Faster internet, unlimited data plans, and cameras on phones that put digital cameras of yesteryear to shame are all converging to make video a crucial part of any social presence. Use the new mode of storytelling to really add some luster to your product. Tight shots of coffee being poured, pastries being sliced, or a creamy latte filling up an elegant mug are just the motivation your coffee-craving customers need to make an extra stop on their way home from work. Tools like Boomerang and even the standard features like slo-motion and filters on your iPhone add an element of cinema that go a long way in production value.
Tip: Don't be afraid if your videos don't look professional-grade. It's more important to be authentic and human than it is to be perfect.
2.) Invest in reach
You may have seen how profitable Facebook is on the news lately. The bad news is, much of that profitability is on the backs of small businesses paying to advertise their business on Facebook. The good news is that small businesses are paying to advertise there because it works! It may sound intimidating to run your own ads on Facebook, but if you have some nice original content (Instagram-quality photos of your pastries and drinks will do the trick) coupled with a clear call to action, a $10 boost can go a long way.
Tip: Take advantage of the geo-targeting capabilities so that you reach the consumers who live or work near your shop and are most likely to become repeat customers.
3.) Drive new product trials
Every independent coffee shop has something unique about them. Whether it's a unique brew, some tasty pastries, or a Myanmar roast that no one else in the city has discovered yet, you should be using your presence on social to position your shop in the minds of consumers. Rather than offer a discount on your coffee, romance the new raspberry scones you have in stock by discounting or even giving them away free for a morning. Sure you take a hit on the cost of goods on the first pastry, but if you can turn just one loyal customer on to doubling his average ticket price the promotion will more than pay for itself in under a month.
Tip: Do the math and estimate the ROI on any promotion. If the product is good, a deep discount or even a giveaway should break even soon enough.
4.) Surprise and delight someone
The most overlooked and underappreciated aspect of social media is the comments section on your content. Remember, you're not just trying to rack up likes - you're connecting with human beings everytime you post. If you're light on comments, make sure you incentivize conversation by not just replying to comments, but occasionally rewarding someone who contributes meaningfully with a treat.
Tip: Comments can become an important channel for customer service. If a customer has a negative experience, move the conversation offline as quick as possible, but don't delete it. Transparency and responsiveness are key.
5.) Offer discounts for mobile ordering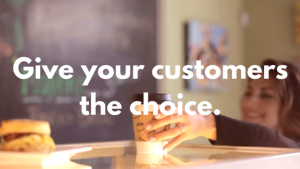 During your busiest times, every second counts. Mobile order and pay will help shorten your line by eliminating the time it takes to take an order, run someones card and print a receipt so it's worth offering a discount to create awareness for your mobile ordering app. Your most loyal customers will appreciate being able to skip the line and you'll never have to watch potential customers pass up your shop because of the long line ever again.
Tip: During slow times, flash discounts advertised through your social channels coupled with quick updates to pricing on Joe are a great hack for driving foot traffic.
How is your shop making a difference through social media? Tell us on Instagram or Facebook!