10 Tips to Maximize Small Business Saturday
10 easy marketing tips to you can use this Small Business Saturday to maximize revenue and safely strengthen customer relationships.
---
Read on for 10 easy marketing tips to you can use this Small Business Saturday to maximize revenue and safely strengthen customer relationships that will help through the winter months.
10 simple tips to maximize this Small Business Saturday
Small Business Saturday is going to look a bit different this year. While more purchases will be made through a mobile device, Small Business Saturday is still a great opportunity to (distantly) reconnect with your community and let them know you are safely serving.
Now more than ever, people are choosing to support their local businesses, so this holiday share your story and encourage community members to choose your shop over the national chains.
These 10 helpful tips will maximize every marketing dollar you spend and safely strengthen the customer relationships that will make a lasting impact into the winter month.
1 - Share YOUR story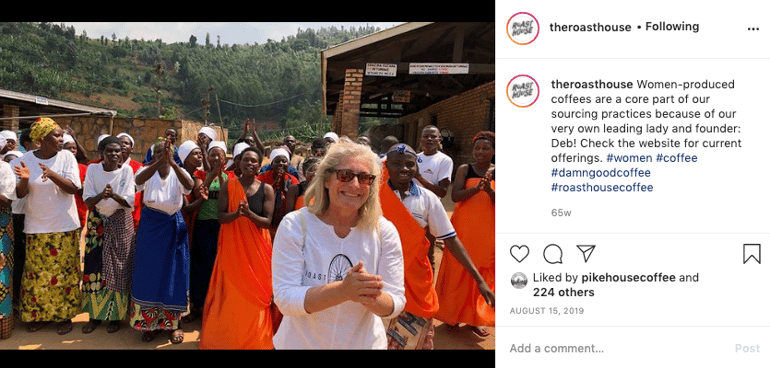 Today is the day to share your "why"! Why did you open a coffee shop? What makes your small business special? Encourage customers to ask direct questions they have about your business and share your answers on posts, comments, or try a Facebook/Instagram Live session.
Customers care about where their dollars go and want to know the humanness behind a business, so share your story with them. Being open and vulnerable with your customers builds trust with your community and strengthens loyal relationships that are so beneficial to the coffee industry.
Don't forget, Small Business Saturday is a day to celebrate you!
2 - Get web ready
This Small Business Saturday, customers will be online searching "coffee shops open near me", so will they get all the information to choose your shop over the big guys? Since customers are unable to walk through your shop, your Google Business listing, social profiles, and webpages are a one-stop-shop for potential customers to gather all the essential information.
A complete Google listing is 50% more likely to lead to a purchase. So take some time to update yours Google Business page, including operating hours, online menu links to order, and branded material that shows what makes your shop unique!
3 - Promote mobile ordering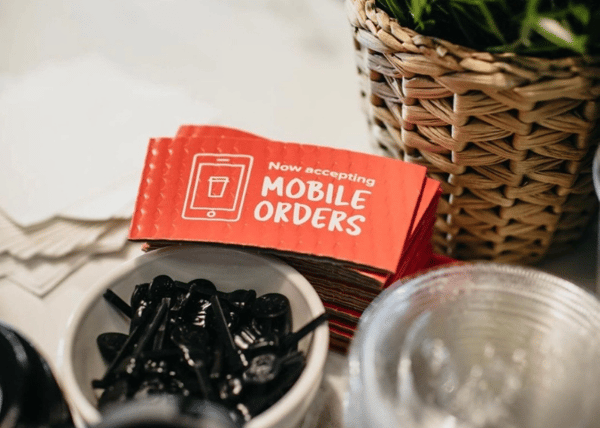 This year especially, mobile ordering is the safest way for customers to support your shop! Whether in-shop or on social media, emphasize touchless transactions to keep both customers and baristas safe and healthy.
joe signage does some of this work for you! Contact-free messaging and QR codes are a simple and effective way to market mobile ordering to your customers. And all joe partners can claim a FREE joe signage kit that includes an outdoor banner, posters, and more!
4 - Communicate on social media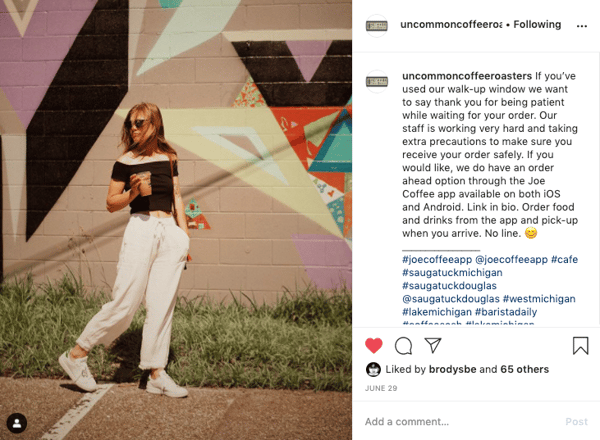 If 2020 has taught us anything, it's that social media is a small business owner's best communication tool! It's free, gives potential customers a snapshot of your brand, allows you to engage with customers to build lasting relationships.
So many customers miss interacting with your baristas, so include many beautiful faces as possible to give that sense of community in the safest way possible. Pack a 1-2 punch in each post by including both important operating information and something fun and personal.
If you're interested in reaching an even larger audience, try investing a bit in a paid social media ad or Google ad.
5 - Offer and promote curbside service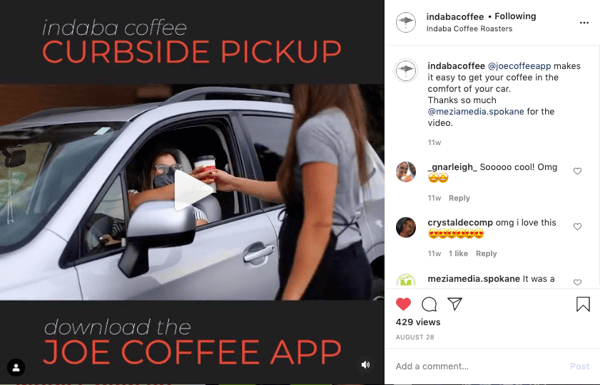 Whether you're a cafe or a drive-thru, offering curbside pick up adds another layer of both safety and service to your shop. Enabling the joe curbside pick up feature makes offering this service in a snap! From their joe order, customers can select their pick up option, safely support your shop, and enjoy your product without ever having to leave the comfort of their car. Customers will fall in love with the exceptional service and delicious coffee!
If curbside is new for your shop, a quick how-to video posted on social media is an easy and effective way on letting customers know exactly where they can pick up their order.
6 - Highlight big ticket items
If you offer large ticket items such as merchandise, bags of coffee beans, or at-home brewing equipment, promote them in shop and through joe. On Small Business Saturday, customers are in the mood to spend extra. Plus the upcoming holidays are the perfect excuse for customers to pick up some of these extra items for friends, family or to treat themselves!
joe featured items and our automatic checkout up-sell are proven to boost impulse purchases, and encourage additional spending all through the app. Customers will love to take a piece of their local shop home with them, and you'll see revenue skyrocket.
7 - Join forces with other small businesses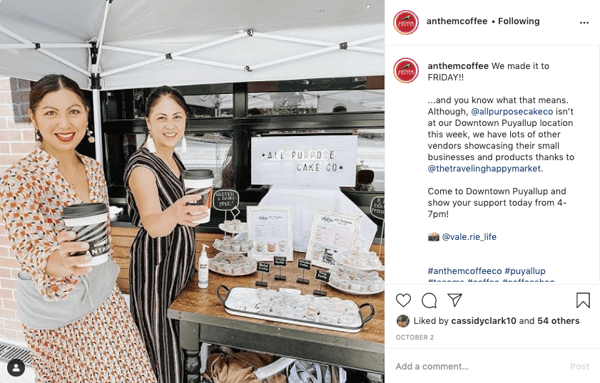 In the sense of supporting small businesses, partner with another local company and share their mission with your customers! We know from working with thousands of coffee shops just how community driven this industry is. Try adding a local bakery to your menu, feature another roastery for the day, or highlight a local chai company.
If you own a cafe, and have the space to properly social distance, try hosting a local artisan pop up shop, inviting a local musician to play, a local author to read, or adding a local artist's work to your shop walls.
Whether simply for the holiday or to kick off a continuous partnership, working with other local entrepreneur can increase your customer base and create mutually beneficial relationships for the future.
8 - Support a local cause
In the nature of supporting local, spotlight a cause that means something to you! Whether this is a local charity that shares a common goal, or a movement like sustainability, share it with your customers. Supporting small businesses makes a big impact - so share with customers what mission their contributions are going toward.
If you're benefiting a local organization, connect with a representative who can share their mission through your marketing platforms. Some joe partners create menu items to accept donations through the app or designate a portion of sales on a specialty item to a local charity they support.
9 - Offer an incentive, then match it in joe!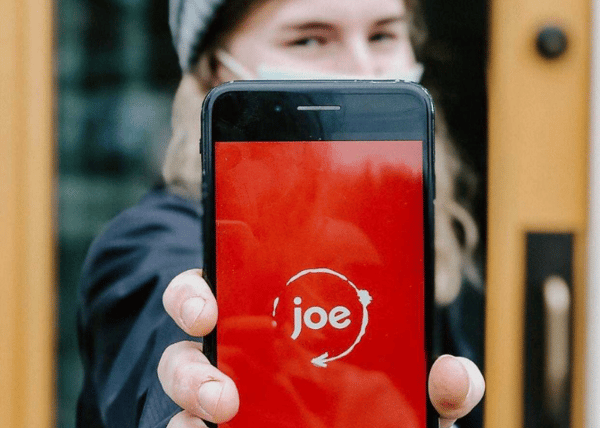 A small incentive to potential customers can often encourage impulse purchases and make a big difference in your daily sales. Drive additional customers to your shop by discounting a single item, promoting a BOGO, or offering a deal off an entire menu category. Be sure to promote the discount to customers before Saturday to ensure they'll take advantage of it on the holiday!
If you are offering an incentive to in-person customers, create a promo code or create a deal for joe customers to provide the most consistent and trustworthy experience.
Promo codes encourage engagement with your followers, and deals are automatically promoted to customers in the app - perfect for capturing both new and existing app users!
10 - Host a giveaway
A giveaway is a fairly inexpensive incentive to support your shop as well as an exciting treat for your customers. A couple ideas include a gift card to come back and support you again, merchandise to promote your brand around town, or products from another local small business to share the love!
Share the details with your customers early and often to spark their interest in entering to win. If you are promoting it on social media, increase your reach to potentially new customers by giving extra entries to followers who tag their friends. Then announce the winner on Small Business Saturday!
Through it all, Small Business Saturday is about celebrating the hard work you put into your business every day! Coffee consumers love supporting indie coffee because of the humanness behind the beans, so sharing your story will create loyal customer relationships. We LOVE to hear about the creative ways our partners are promoting their small business!
If you have a unique and impactful way to safely bring in customers to your shop, or drive additional revenue, email us at success@joe.coffee.