San Antonio Shops Serving Community in Every Cup
From idea to execution, creating a local establishment is hard work. Beyond the branding there are people - baristas, managers, and owners who keep the shops working like clockwork. Each shop on the joe network has a unique story to tell (and drinks they serve!). The San Antonio Coffee Hop promotional event gives coffee lovers the opportunity to explore the Texas coffee scene and experience the uniqueness of community.
In celebration of this event we sat down with several partners in the San Antonio area to learn their story and share out. Learn more about them below, and be sure to stop by their shops! Who knows, you may find your new favorite drink.
Allyson LeBleu, Owner and General Manager of Medina River Coffee Roasters shares how a dedication to creating a community space and unique twist on coffee sets her shop apart.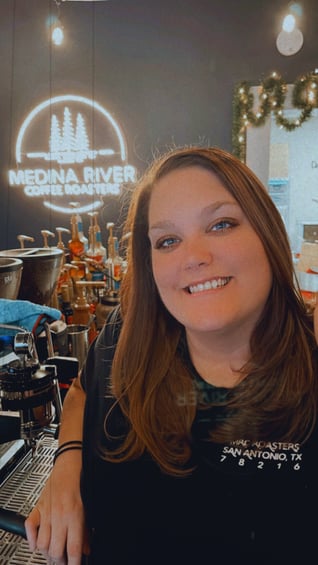 Allyson LeBleu, Owner/General Manager of Medina River Coffee Roasters
Q: What is the origin story of your shop?
Jim Perkins, the founder, owned property on the Medina River in Bandera, Texas, and one day when he was fishing out there, he dreamed up this place. He then bought a Deidrich roaster, spent COUNTLESS hours learning the machine, test roasting--coming up with the best quality medium roast coffee, and here we are! :)
Q: What is one thing you want people to know about your team and your shop?
There are so many things that I hope people know about our shop. First and foremost, everyone is welcome. We have worked really, really hard to make sure that the shop is a safe space, and that everyone that walks through our door feels at home. Our staff, at any given time, is laughing and having a good time, while working quickly to make sure your drink is correct and out in a timely manner. We genuinely feel that our customers are our friends, and love every opportunity to meet someone new and welcome them into our place, and we hope that everyone knows how grateful we are for all of the support over the years.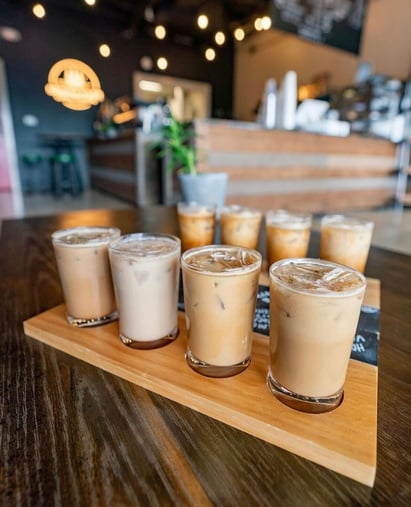 Q: What drink is your shop known for? What's your favorite drink personally?
Our coffee shop is DEFINITELY known for the coffee flights that we launched back in May. It consists of 4 little 6oz beverages, hot or iced, that allow customers to try the drinks on our menu without feeling like they have to commit to a whole drink that they may or may not like. If not the flights, then the Cold Brew, for sure! Our Cold Brew is some of the best in the city, hands down.
My favorite drink personally is our Pumpkin Cold Brew with White Chocolate Cheesecake Cold Foam. If you think it sounds magnificent, it's because it is!
Q: What do you feel makes San Antonio's coffee scene so unique?
I think what makes the scene here so unique is the fact that while we are all pretty much doing the same thing, (making coffee), we all do it SO differently. I think that when you go to all of the different shops here in San Antonio, you get a chance to see, not only the diversity of us all, but there's not really a competition between any of us.. if that makes sense. And because of the lack of competition, I think you get to see that we all just genuinely want the other to win, and I love that. We all make lattes, we all make cold brew, we all pull shots the same way, we all steam milk the same way, but our hearts are so different, making each single drink served, unique in itself.
Nikki Orsak, owner of Guadalupe Coffee Co., shares with us how solid roots, paired with a passion for quality and creativity has fueled her small business.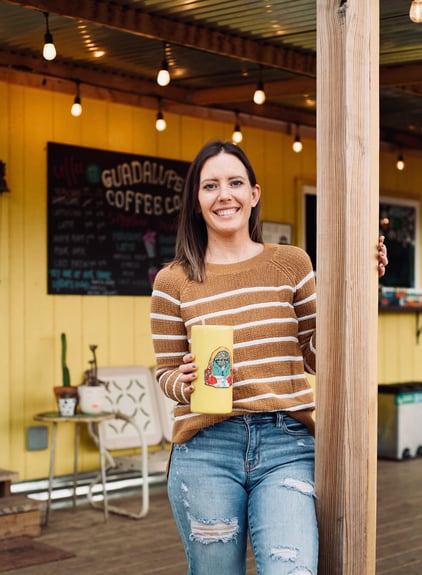 Guadalupe Coffee Co. Owner Nikki Orsak
Q: What is the origin story of your shop?
Guadalupe Coffee Company was conceived over many morning commutes through the Guadalupe River Valley, in the heart of the Texas Hill country. Inspired by each sunrise through the valley peaks, our mission was easily envisioned - one cup of coffee at a time. With a special focus on the Mexican and South America Regions, our specialty coffee drinks are crafted using the brewing techniques purposely designed to highlight specific notes in each roast. All of our beans are small batch roasted by Bluebonnet Coffee Company right here in Texas!
We knew our mission to bring an exceptional coffee experience to the Texas Hill country wasn't going to be easy logistically. And opening a coffee shop during the pandemic definitely proved our assumptions to be correct! But our passion for good, honest coffee has kept our window open and the coffee flowing!
Q: What is one thing you want people to know about your team and your shop?
One of the most important aspects of our vision is to cultivate a place for community and creativity. We put a lot of time and effort into our involvement within our community, as well as creating an environment that fosters growth within small businesses and ourselves. Coffee has historically been at the table of many important conversations, divisions, and life moments - we want to ensure a good cup of coffee remains the center of community and continued growth.
Q: What drink is your shop known for? What's your favorite drink personally?
Our most popular drinks are the Hibiscus Latte and the Guadalupe Sunrise - hands down!
Both signature drinks feature the hibiscus flower, but in different elements (one as a syrup, the other as a tea). My personal favorite is the Texicano - like an Americano but with some South Texas Flare. Hot or Iced, you cannot go wrong!
Q: What do you feel makes San Antonio's coffee scene so unique?
San Antonio is a melting pot of culture. The coffee community is as loyal as its Spurs fans, no doubt!



Faith in a her dream to be a coffee business owner, and a lot of perseverance, is keeps Mas Cafe owner Stephany Cardenas-Massey serving her community every day.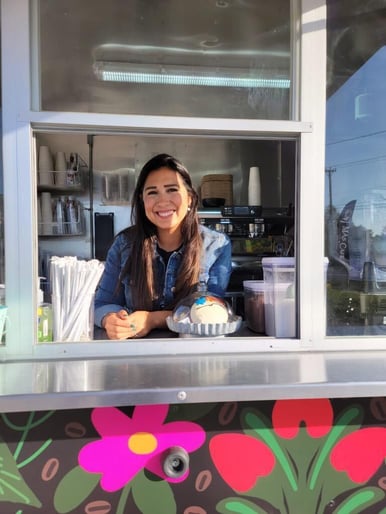 Mas Cafe owner Stephany Cardenas-Massey
Q: What is the origin story of your shop?
I was born and raised in Laredo, TX. After graduating from Texas A&M International in 2010 and moving to San Antonio, I dreamed of being part of the culinary world, and to become a business owner. My husband and I traveled to Jamaica in 2018, and fell in love with Blue Mountain coffee, and that's where it all began. I knew that coffee was the answer. I know this sounds crazy, but coffee makes me happy, the smell of coffee makes me happy, the taste of coffee makes me happy and the essence of coffee makes me happy... so let's invest in opening a business in coffee!
A year later, I took the week long barista training course at Seattle Barista Academy, and practiced for months. After researching and hiring architects the time came to finally open a store front coffee shop, but unfortunately the pandemic hit, and we took a horrific hit, financially. Opening a business was still within reach, so I opened a small coffee trailer in May of 2021.
There were so many points in this journey that made me want to quit and wave that white flag, but my focus was never detoured. With the support of her family and her husband, Mas Café was born! To this day, the journey is difficult, but the reward is so much bigger. Perseverance, dedication and love for God is what keeps us going! I read this everyday to calm me and keep me on track:
Psalm 91:4 "He will cover you with his feathers, and under his wings you will find refuge; his faithfulness will be your shield and rampart."
Q: What is one thing you want people to know about you and your shop?
Well, there are many things, but one thing I truly want to get out there is... no matter how big or out of reach your goal is, keep putting one foot forward. Give it your all, even if its one customer every hour, or your sales are $100 a day. All it takes is one happy customer to make your dream come true.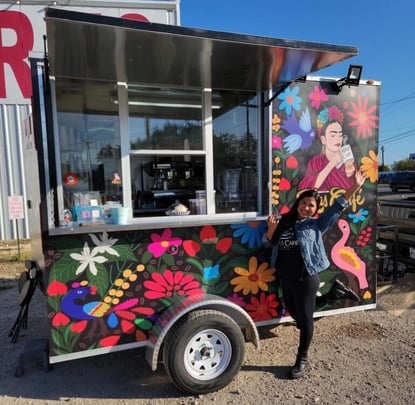 Q: What drink is your shop known for? What's your favorite drink personally?
Our customers favorites are the Tres Leches and Churro Lattes! Though our Abuelita is becoming our top seller. It might be the season! My favorite drink is simple! In the hotter seasons, I love Plain Coldbrew. In the cooler weather, I love, love, love Steamed Cold Brew!
These three coffee spots are just a few of the 25+ shops in the greater San Antonio area on joe! All with exceptional coffee and a unique story behind the beans that we'll feature during this year's San Antonio Coffee Hop.
Interested in joining the largest network of indie coffee lovers? Email us at sales@joe.coffee to get started.