Launch Day Package
On average, it takes a customer 5-7 times of hearing about a new service to consider it. So, make sure promoting joe is a part of your daily routine. To make the most of your promotional signage, get it right front of your customers and incorporate it into conversations! It takes a bit of time, but making promoting a priority will get your customers on board. To help, here are a few best practices on how to make a big impact with your joe promo items.
joe Promo Cards

Promotional cards are the most effective way to start a conversation with your customers. At the end of the day, we know that customers trust their baristas! So encourage your baristas to hand out a joe card to EVERY customer!
Next your baristasWhere to keep them:
If your baristas don't know what to say, TRY THIS: "We are now accepting mobile ordering with joe! You should check it out for you next order."
Pick Up Sign


Your pick up spot shows off what other customers are missing! It is eye catching and informative, as well as provides an easy spot for joe users to grab their drink
Where to put it:
On your counter
On the drive thru window sill
Hang it on a window, or a wall!
Outdoor Banner (2'x4')
Outdoor joe banners are ideal for drive thru locations and grab commuter's attention as they drive by. There's no better way to announce your mobile pick up service than with a bright orange sign! We suggest trying it out for two weeks and see the impact that it will make on your overall sales.
Where to hang it:
Side of your building where it is visible to drivers
On a reader board
Under your drive thru menu
Sneeze Guard Signs
These signs are lightweight and versatile! These signs are a great visual for customers to learn about your mobile service with joe. It also provides a call to action so customers can download the app.
Where to hang it:
Glass sneeze guards
Back of espresso machine
Above your cream and sugar station
Loyal Customer Cards
Baristas have THE BEST relationships with customers! So continue to build those important relationships with your customers and incorporate joe into their morning routine. Give these cards to your baristas to share with their regulars. Plus! These cards give a special deal for your loyal customers.
Where to keep these cards:
Espresso bar-top
Next to your register
Barista apron pockets
Table Tents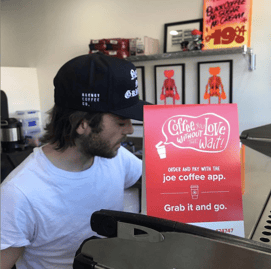 These joe table tents are perfect to promote your joe partnership to customers who love to hang out at your shop. While waiting for their order, customers can learn about a way for them to skip the line.
Where to place them:
Table tops
At the end of your coffee bar
Cream and sugar station
Window Decals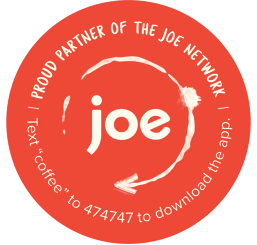 Bold and bright orange! These decals are the first identifier that your shop is on the joe network! So make sure your customers can see them.
Where to hang them:
Drive thru window
Window near your entrance
Pastry case
Glass sneeze guard
Chalkboard Art? Yes, please!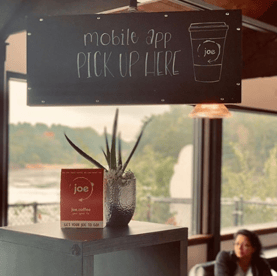 Of course we love to celebrate what makes your shop unique. So, if you have a unique spot you would like to advertise mobile orders, go for it! We love seeing your artwork on chalkboards and windows.
Don't know where else to promote? Check out this post for a couple ideas!
Feel like you should be getting more orders with joe? Shoot us an email at success@joe.coffee to get enrolled in our Partner Growth Program and find out what offers you qualify for.