This blog is a part of the series 9 tips for pick-up only service. This article centers around offering larger ticket products for curbside pick-up to increase your cashflow.
Larger-ticket products increase cashflow
Up-selling big ticket home brew products and merchandise can provide a big boost to cashflow and keep your business humming. We came up with six large ticket items to boost cashflow and generate buzz on social media based on best practices from partners in the joe network.
1 - Roasted Coffee Beans
Sell bags of your beans online or through mobile ordering like joe so customers can get the coffee they love for all their home brewing needs. To encourage larger spending and increase immediate cash flow, consider offering an incentive for customers who reach a spending limit. Pure Bean Coffee offers free shipping on coffee orders when customers purchase 3 bags or more.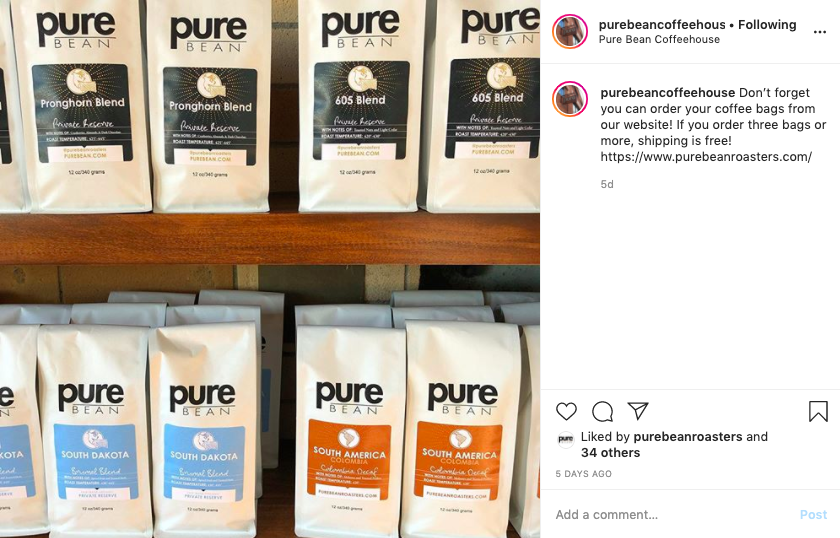 2 - Merchandise
Apparel, coffee mugs, tumblers, and stickers results in immediate cash flow as well as long term promotion. Steamworks Coffee Roasters is selling their merchandise online and advertised it all in a single Instagram post.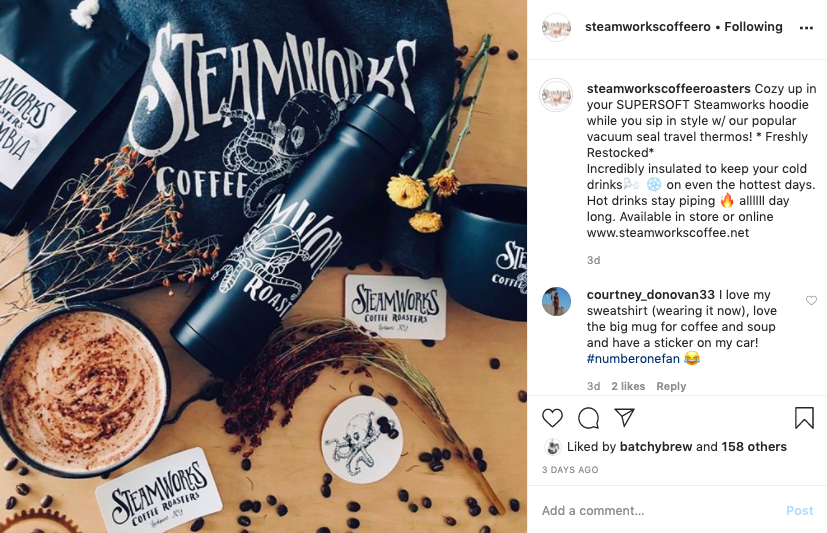 3 - Gift Cards
Encourage customers to buy a gift card now and spend them at a later day. You'll receive immediate cash flow as a buffer as well as a long-term customer who will keep coming back!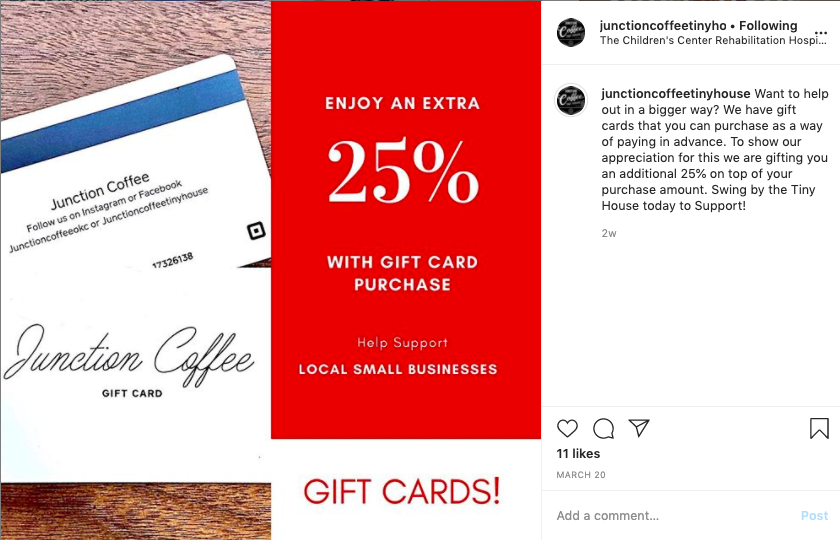 4 - Home Brewing Equipment
More and more customers are staying in and making their own coffee, but you can keep your shop top of mind by supplying the equipment they need to enjoy their coffee. Coffee filters, grinders and and brewing equipment are all products you can sell to increase your immediate cash flow.
Common Room Roasters shared their expert opinion for their customers to make the best coffee at home with an aeropress, and are offering online for quick impulse purchases!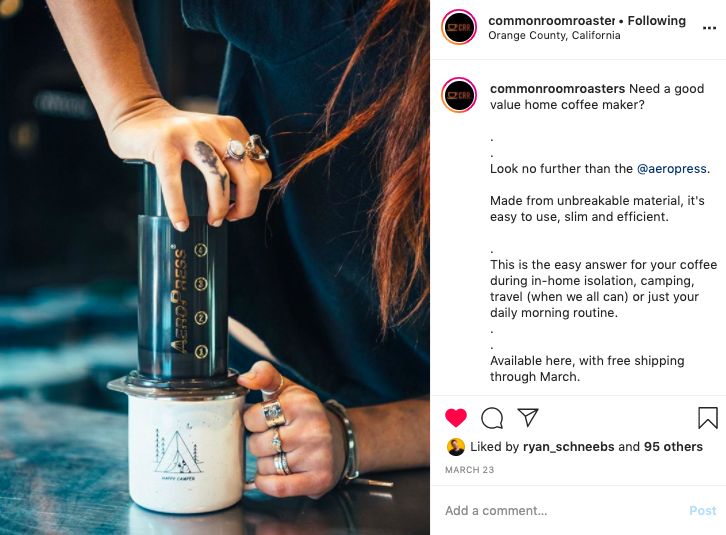 5 - Extra Large to-go Lattes
Strategically use up some of your inventory and offer jugs of flavored lattes or cold brew for customers to take home. We see coffee shops offer them in a variety of sizes from half-gallon milk jugs all the way up to 5 gallon jugs! Price them accordingly and see an influx of cash for the day.
ONYX Coffee Lab is selling half-gallon to-go lattes in a variety of flavors. Advertise for customers to preorder and have them ready for curbside, contactless pick up.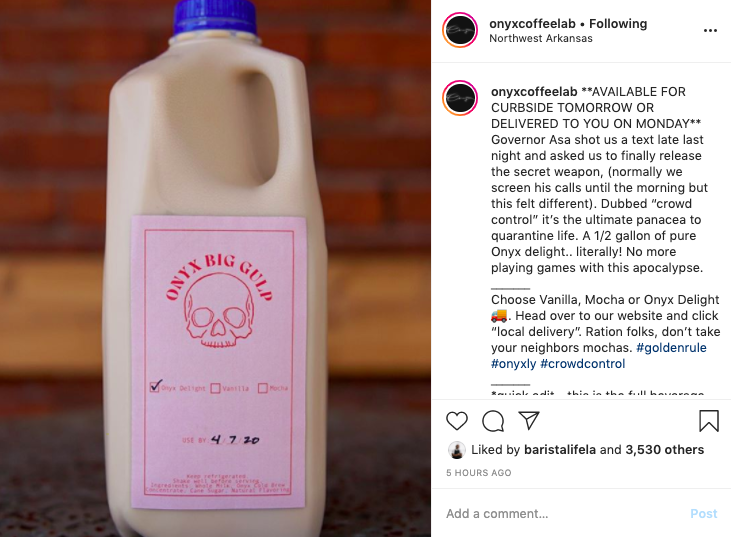 Or... go BIG like Augies Coffee!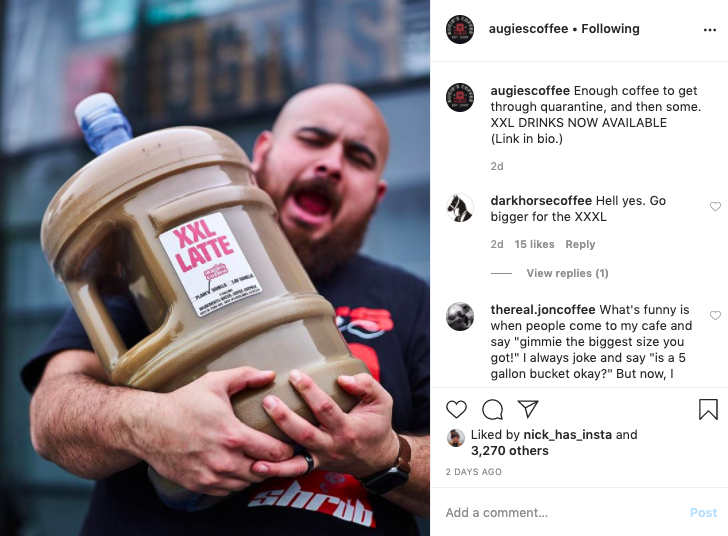 6 - Specialty Ingredients
Do you craft your own home-made syrup or chai? Give your customers the products that they LOVE from your shop so they can make a drink at home. Packaging it up doesn't have to be fancy either, try using mason jars and bulk tin cans that seal well. Honu Coffee advertised thier chai on social media with discounted price to boost interest and increase cash flow.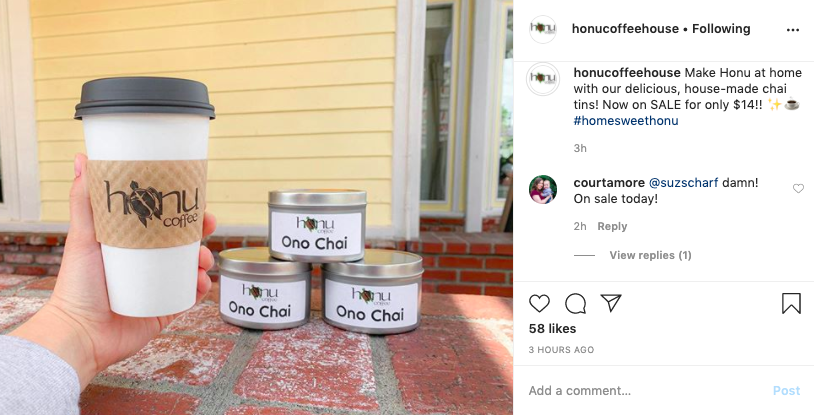 joe's flexible menu features can accommodate ALL of these unique large ticket items so you can feature and sell to customers for mobile order and curbside pickup. Interested in getting started? Email us at success@joe.coffee to begin the registration process.