Add images to your menu to encourage scrolling customers to click through and order at your shop! Read on for our recommendations and guidelines when uploading photos to your store and menu items.
Background
Customers who order their daily coffee with joe spend 45% more per month than in person customers because of our built in loyalty marketing engine. So capture and convert potential customers to loyal joe users at your shop by creating an online presence that POPS!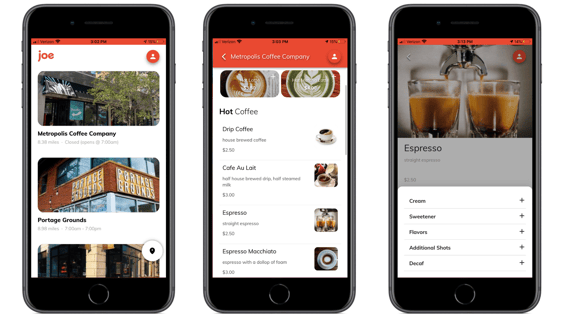 Sharp images of your shop and menu items...
Encourage impulse purchases

Boost average tickets per customer

Increase your bottom line
Follow these recommended guidelines to feature high quality images and create the optimal digital experience, or click the button below and we'll upload the photos for you!
Storefront Banners
Storefront banners should represent what makes your shop unique! What is it about your shop that entices passers by to stop in? Think about those factors when choosing your high quality banner photo!
Here are a few of our recommendations based on your type of shop:
Cafe & Roaster - A photo of the interior of your shop depicting your unique atmosphere or vibe that may include your staff, signage, logo, menu, equipment, customers, beverage, etc.
Drive Thru: An exterior shot of the shop including your staff, signage, logo, menu, equipment, customers, beverage, etc.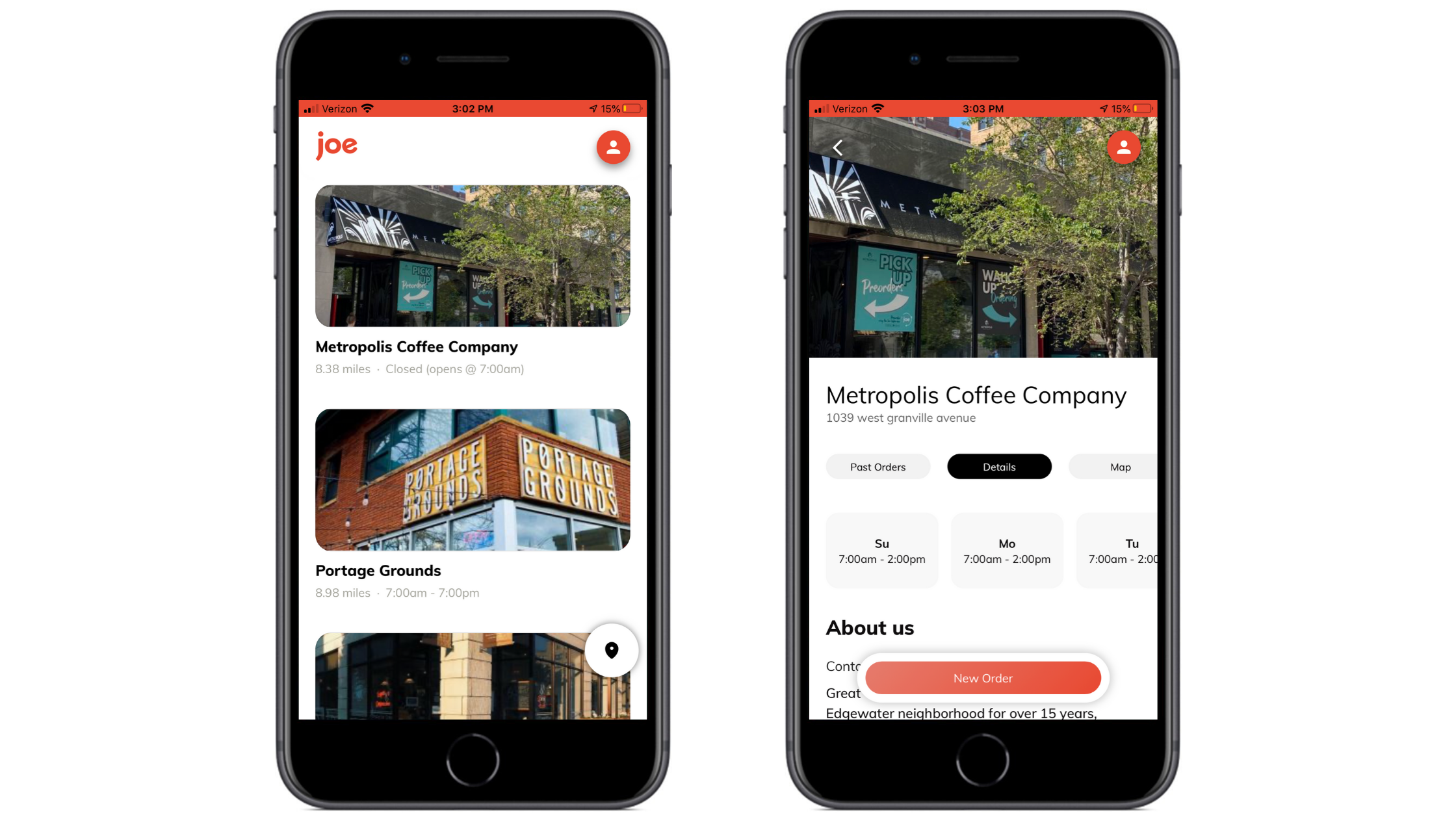 (Left: Store Search Banner, Right: Store Banner)
Specs to Upload: 1400 x 400 px image
Note: Because your storefront is available to view on a desktop, banner photos are uploaded in 1400 x 400 px, and are cropped to the center 500 – 600 pixels for mobile. So all identifiers of your storefront (logos, signs, etc) should be in this middle "safe zone".
Menu Item Images
Menu item
images are visible from the main menu next to the item listed, as well as in any
featured item
you set, and expand to a larger banner. We recommend choosing a high quality image that will represent that menu item well.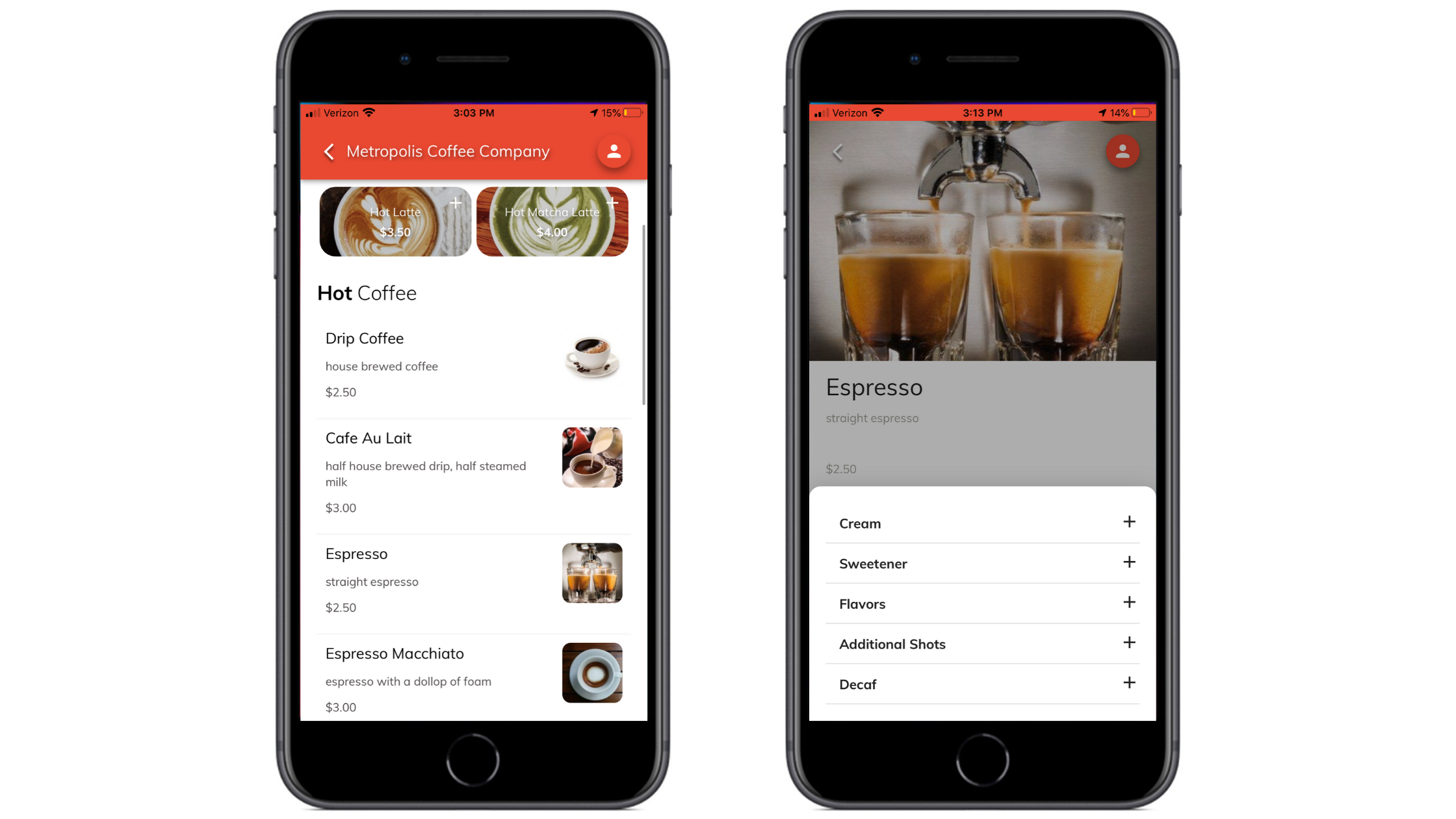 (Left: menu images & featured items, Right: expanded menu item)
Specs to Upload: 1100 x 1100 px image
Note: Images must be cropped to 1000 x 1000 px and will zoom in depending on the customer's journey in the app, so make sure the photo represents the item whether from a distance or close up.
After uploading images to your menu, head over to the consumer app to check out your menu from a customer's viewpoint.
Have further questions about customizing your menu? We are a team of former baristas and are here to help! Email us at success@joe.coffee.