Caffe Paradiso Earns Even More Customer Loyalty with joe
This charming southern cafe earns more customer loyalty by putting the customers wants and needs at the forefront of every decision.
---
How Caffe Paradiso earns even more customer loyalty by putting the customers' needs at the center of their business.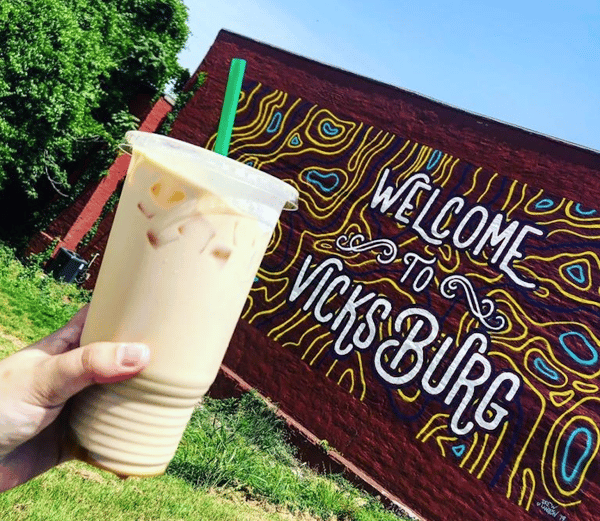 Highlights
Grow shop revenue by 30% overall
Organically grow business by centering around community and customers
Receive personal account growth support that's perfect for busy proprietors
Caffe Paradiso's Story
In 2015, Kayla Lendon opened Caffe Paradiso with one mission: be the community's coffee spot. Located in historic Vicksburg, the town is just off Interstate 20 that sees a lot of tourists headed to the nearby historic Military Park. However, most travelers were only passing by. As a result, business at first was a slow start. "There were months where we could barely make rent," Kayla says. Kayla's shop wasn't the only local business feeling the economic stress. So collectively the town's businesses developed a new approach to drumming up business, all centering around celebrating their community.
In shop, you'll find a welcoming atmosphere with menu items inspired by her customers and family members. Kayla's shop is dog - and the occasional potbelly pig - friendly, and offers a small "pay it forward library" where anyone can take a book to keep, just so long as the pass it along to someone else.
They serve only locally roasted Cafezinho coffee, and while there are other options that are more affordable, Kayla says "it's important to represent her town and keep everything local".
As a result, every decision Kayla made, she put customers and her community at the forefront, and it has paid off. Now, more than 5 years in, her shop is thriving, and she owes it all to her town and her customers!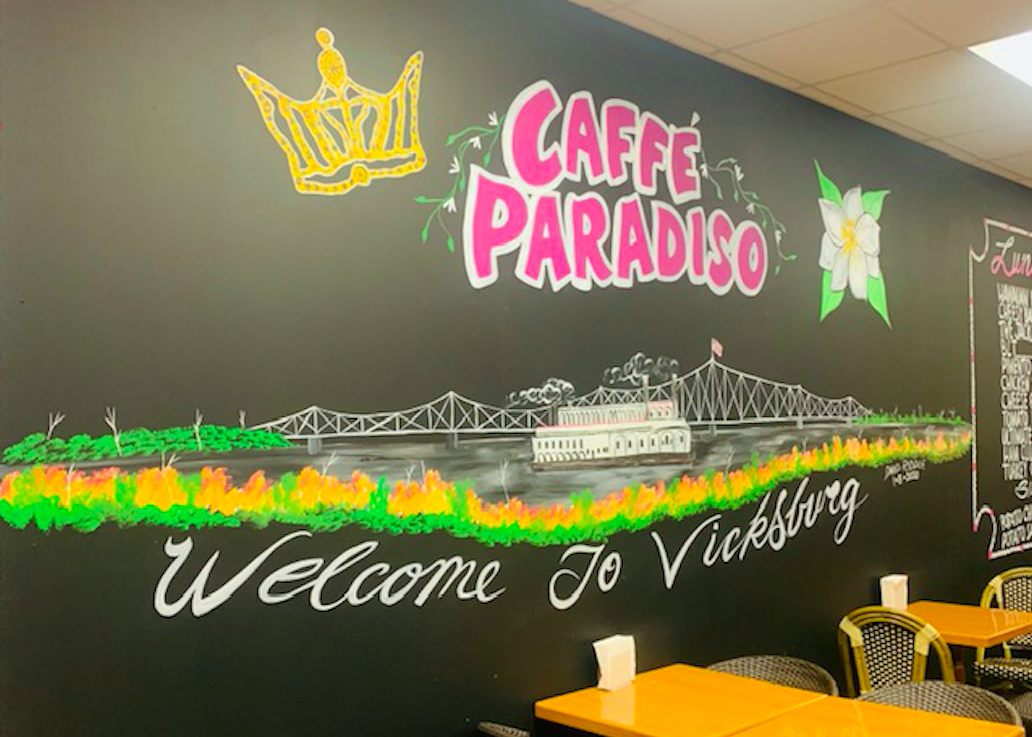 One wall of Caffe Paradiso's shop displays a hand-painted mural of a steamboat on the Mississippi River, crafted by a Vicksburg community member.
The Goal
In 2018, business was growing rapidly with more and more tourists staying in town and stopping by Caffe Paradiso. However, Kayla's local regulars were suffering from the larger crowds and were begging her for a more convenient option. Wanting to keep her community top priority, Kayla knew she needed to implement some form of order ahead so her customers had a way to stay loyal and skip the line.
But swamped with operating her own business, Kayla hesitated at the thought of creating their own white label app. Kayla says she knew it was going to be too expensive to build an app on our her own. She wanted to be a part of some thing where she could get the support she needed. Overall, she wanted something that aligned with their shop's mission and supported them as a small, growing business.
The Tool
When Kayla learned about joe, she was sold on the mission of empowering indie coffee. As a small business ourselves, joe fit with Caffe Paradiso's own goal of supporting community. Her own designated Partner Success Manager helped set up her account seamlessly, and the partnership has included continued support and the marketing resources she wanted.
In shop, Kayla set out a designated mobile pick up area for her regulars to pop in, say hi and grab their order. All without standing in line. Now, she loves announcing a joe order when the cafe is packed, it always makes customers perk up while they are waiting in line. Since implementing joe, her customers LOVE it!
Still today, Kayla works with her Partner Success Manager to craft marketing solutions and drive revenue through new growth programs. She gets continued support and Kayla says, "as joe grows, we grow!"
The Result
Caffe Paradiso has been a loyal joe partner for more than 2 years now and are consistent leaders in orders, daily sales, and exceptional customer service. With her Partner Success Manager, Caffe Paradiso has grown to more than $2,000 of incremental revenue per month. Thanks to efficiencies gained with faster lines and cutting out time to process transactions in person, joe helped lift their overall shop revenue by 30% since joining the joe network.
Meeting their customers' needs with mobile ordering has allowed Caffe Paradiso to maintain those valuable customer relationships and continue to grow. All without sacrificing quality customer experience.