Cloud City Coffee and Putting Customers First
How this joe partner is prioritizing customer experience above all, coffee shops as a catalyst, and their decision to switch to joe from a white label app
---
We sat down with Jill Killen, owner of Cloud City Coffee in Seattle, WA to learn about creating an inclusive community, coffee shops as a third space, and always putting customer experience first.
Cloud City Coffee and Putting Customers First

Jill Killen, Cloud City Coffee owner.
Cloud City Coffee is an equalizer in the community. A cafe where neighborhood members of all ages and backgrounds gather over a delicious cup of coffee. A place where customers are put first and staff sincerely enjoy serving.
In 2002, Jill Killen, owner of Cloud City, took a huge leap of faith on a space and an idea to bring a coffee shop to the Maple Leaf neighborhood of Seattle, Washington. She knew the neighborhood well and was positive her vision would fit in this community. So risking her savings, she took the plunge and opened Cloud City Coffee.
We sat down with Jill to talk about opening her cafe, intentionally positioning it as a third space in the community, and the importance of prioritizing the customers' experience above all else.
Cloud City as a Third Space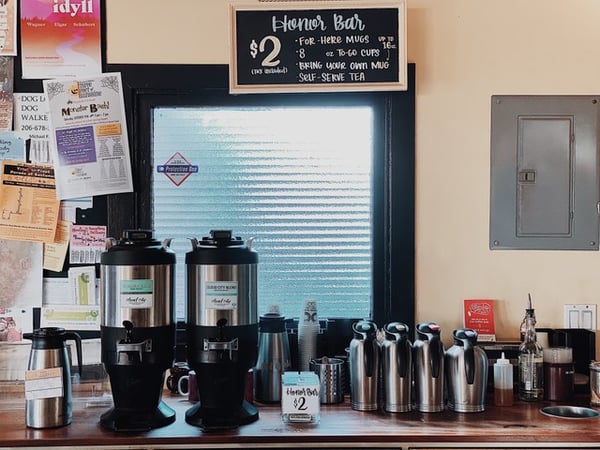 Cloud City's drip coffee "Honor Bar"
Cloud City, first and foremost, began as a gathering place. "Specialty coffee came later," Jill shared. Opening Cloud City, Jill and her former partner envisioned the cafe to be a hub that anyone, regardless of income, could visit. "We believe you don't have to be rich to enjoy coffee", Jill shared with us. "Ultimately we wanted a space where everyone would feel safe, respected, and comfortable".
So to invite customers to visit, they started with a $1.00 drip coffee option. It worked! The cafe soon became the spot where friendships developed. Vietnam War veterans would gather early in the morning, sharing stories and finding community. And where young families would meet before nap time, visit, and play in one of the only kids areas of this urban neighborhood.
And as the customer base grew, so did their menu to reflect what the community wanted. Now offering an extensive menu of locally roasted, specialty coffee drinks, delicious homemade pastries, and grab and go food, all made in house.
But beyond being a hub to create these valued friendships, Could City grew to be an important third space. A cornerstone for the community. Outside the shop you'll see several flags hung signifying a safe space where everyone is welcome. Over the years they've supported local organizations, hosted fundraisers for local schools, offered their space as neighborhood food pantries. Currently outside the cafe you'll find a table of hygiene products, from socks and underwear to toilet paper and cleaning supplies available for the community to take.
"Our society is experiencing a cultural revolution, and we want to make it clear that our coffee shop is a part of the community and a part of the cause", Jill concluded.
Offering Community and Convenience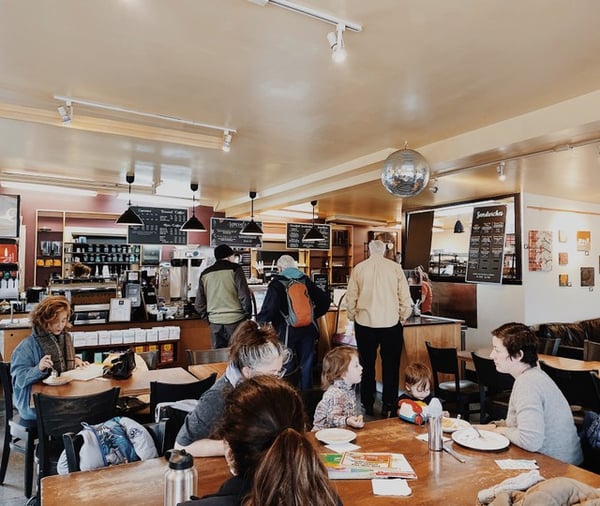 Cloud City Coffee pre-COVID
In the nearly 19 years that Cloud City has been open, they've created an environment customers want to visit and a product customers want to sit and enjoy. Their only challenge was convenience. Location wise, the cafe is on the wrong side of the street for main traffic flow, so is not the fastest option for their customers on the go.
"We needed to improve the experience of the long wait time", Jill said. So in 2018, they looked to mobile ordering as the solution, and found joe. Cloud City was one of the original coffee shops apart of the joe network. "We saw the value in mobile ordering and the time saver it was for our customers", Jill shared. On the days when her customers were in a rush, they loved it!
Like many coffee shop owners, after seeing the value of mobile ordering in her shop, Jill was enticed to develop her own white label app through ChowNow. She was allured by the idea of their own brand identity specific to the Cloud City experience and they left joe. However, the experience with their white label app was not what they thought it was going to be.
"Switching back to joe from a white label app really came down to two things: cost and a better customer experience," Jill shared.
At joe, we understand that customer experience for mobile orders is more than just the ability to place and receiving the order. Other apps, made for restaurants are not built for the nuances that comes with coffee. Jill shared, "I realized as a person I wouldn't want to download an app for every shop I visited and neither would my customers. I'd rather my cafe be a part of a community of coffee shops, rather than on my own".
The Result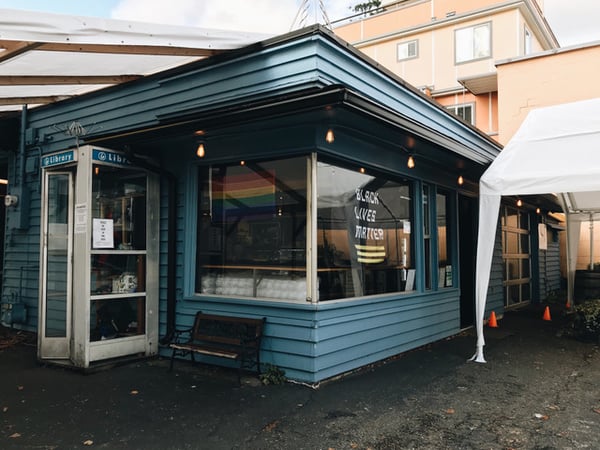 Putting her customers' experience in the forefront back in 2019 was a vital decision for operating during 2020. When COVID restrictions hit, Cloud City was fortunate enough to have a contact free system in place and a large following on the app. They could keep doors open and safely serve the community, without having to worry about poor customer experience, or excessive fees from a white label option.
Their orders made through joe have grown exponentially. joe menu features maximizes their robust menu to customers, resulting in a $15 average ticket per customer through joe. What was once a supplemental revenue stream of 250 orders per month has skyrocketed to 3,500+ orders per month and topping $50,000 in monthly revenue through joe.
While customers can't gather in the cafe for the experience Cloud City is known for Jill is optimistic that operations will return to normalcy too, and Cloud City can once again be the hub for her Maple Leaf community. Until then, Jill is confident in the reliable experience that her customers will receive ordering through the joe.
If you're interested in providing your customers the #1 rated mobile ordering experience with the joe network email us at success@joe.coffee.