Celebrating Hispanic Heritage Month: Shops to get you started
September 15 marks the start of Hispanic Heritage Month. We honor and celebrate these Latinx-owned shops on the network, their contributions, and culture!
---
Hispanic Heritage Month starts September 15. Celebrate these Latinx-owned coffee shops on the joe network, their unique missions, and about these inspirational coffee entrepreneurs!
Celebrating Hispanic Heritage Month: shops on the network to get you started
As we mark the start of Hispanic Heritage Month, joe is proud to celebrate the cultures, community, and craft of Latinx and Hispanic communities, and the incomparable contributions they have made to the coffee community.
This observation started in 1968 as Hispanic Heritage Week under President Lyndon Johnson, and later expanded to a 30-day celebration by President Ronald Reagan in 1988, starting on September 15 and lasting through October 15.
Central and South America is home to some of the world's top coffee-producing countries, highest quality Arabica coffee beans, and most inspirational coffee entrepreneurs that have contributed to the specialty coffee industry in America.
So to celebrate this month, we are proudly featuring Latinx-owned coffee shops across the joe network spotlighting their missions and the diverse flavors they bring to every cup of coffee served.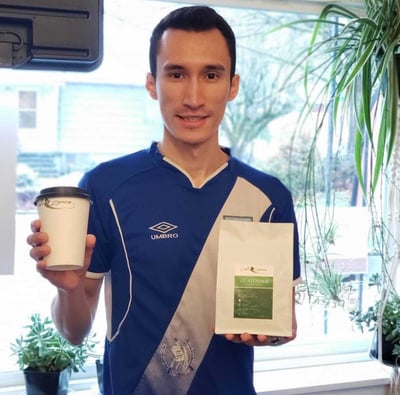 (Photo credit: @cafezamorapdx)
"We are passionate for the search of the best coffee and the enjoyment of our flavors by recognizing our farmers hard work", owner Hector writes in his mission statement.
When it comes to farm to cup coffee, Cafe Zamora in Portland is a guidepost. Owner Hector grew up on his family's coffee farm in Guatemala and through hard work, his own coffee plantation, and cultivating professional relationships he is living his dream of selling his father's beans directly to coffee lovers. Hector's goal through it all is to create a sustainable and fair business model, bridging the multiple worlds of coffee from farmers, to roasters, to consumers.
What to order: Direct to farm means a cup of house brewed coffee for every order!
#WomanOwned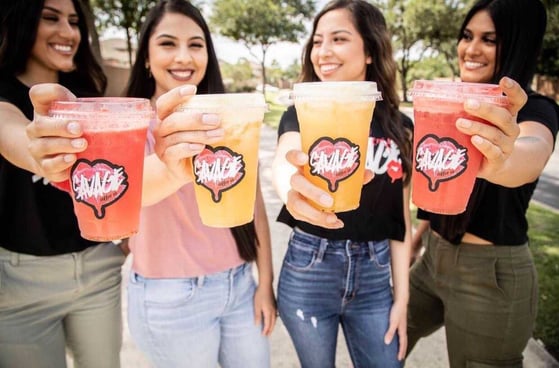 (Photo credit: @savagecoffeeco)
This mobile coffee trailer is built by women to fuel #bossbabes navigating through life. With a mission to "mix cultura and the love for coffee" in the San Antonio communities Savage Coffee Co. brings personality, bold branding, and delicious flavors to every cup they serve!
What to order: Savage's refreshing frescas are sure to keep you cool in the hot Texas heat! With mouthwatering flavors, you can't go wrong ordering any on their menu!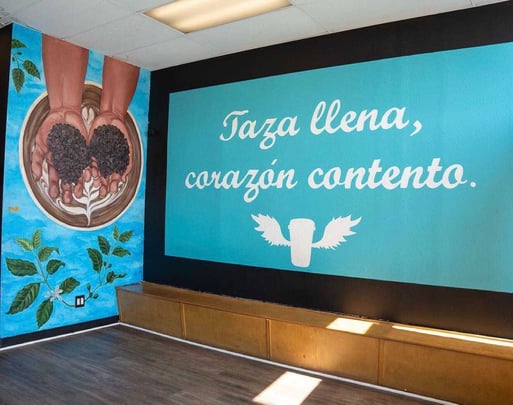 (Photo credit: @elcielitocafe)
You've probably heard us mention Daniel before, the passionate owner of El Cielito Cafe, and we're here to give him a shout out again! El Cielito Cafe is dedicated to blending artisan coffee with the culture of Latin America, roasting and serving coffee as diverse as the countries he sources from. The mural on the wall of his cafe says it all: "full cup, happy heart".
What to order: The Tres Leche Latte should be top of your order list! Made with Cielito's Martillo blend espresso, steamed milk and their secret home recipe!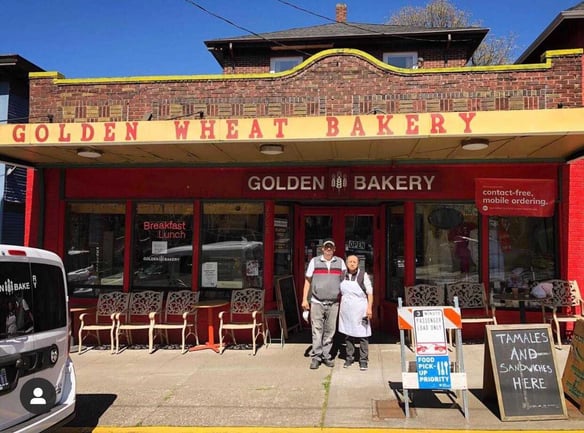 Golden Wheat Bakery is a family-owned and operated Latin American bakery with two locations in the greater Seattle-core. This cafe serves handmade pastries, tamales, empanadas, coffee and so much more, all made with heart, and baked to a golden perfection.
What to order: You can't go wrong with Golden Wheat's hand-made tamales, and you might as well add a delectable dessert to your plate.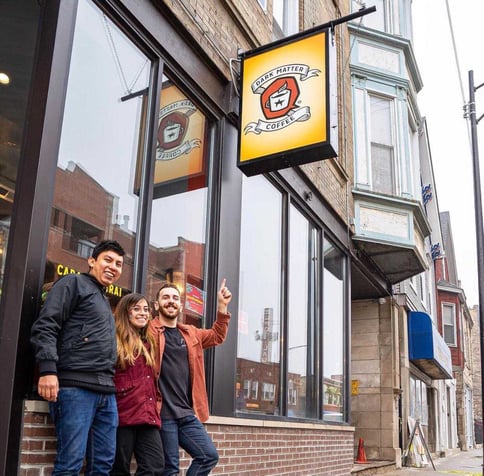 (Photo credit: @darkmattercoffee)
Many people know the Dark Matter Coffee brand. This well known Chicago coffee company operates 8 full fledge cafes, roasts beans, cans cold coffee, has become a huge staple in supporting the Chicago arts community.
In honor of Latinx Heritage month, we're spotlighting their Caravanersai Cafe location that focuses on the craft of Mexican Drinking chocolate, sourced directly from La Rifa Chocolateria of Mexico city, and is served in a more traditional style.
What to order: Mexican Drinking Chocolate. Need we say more?
#WomanOwned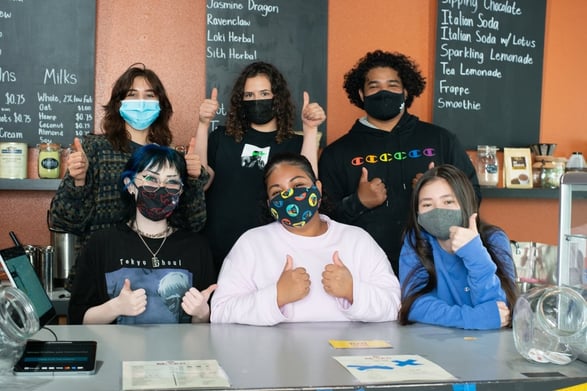 (Photo credit: https://www.mixed.coffee/about-us)
This family-owned Latinx/Black coffee shop located just north of Seattle fuses the cultures of the owner's Ecuadorian-mother's heritage and father's black Los Angeles roots. With delicious coffee, authentic food, and an eclectic cafe, Mixed Coffee + Community is a place where everyone belongs.
What to order: The Ecuadorian empanadas are a must try from Mixed! They're made from mom's original recipe, savory, and oh so delicious.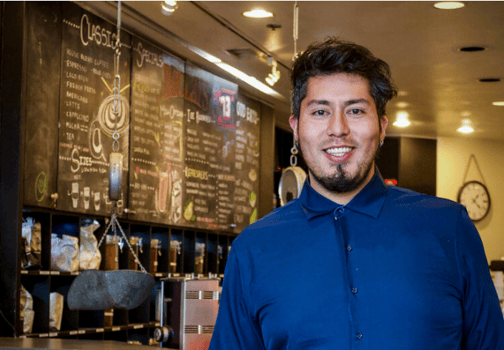 (Photo credit: https://www.barclayscoffeeandtea.com/about)
Barclays owner Diego Lopez wanted to use his passion for people and his passion for music and art to serve the community. Founding Barclay's cafe gave Diego the perfect avenue for him through great coffee and personal customer service.
What to order: If you're going for an iced drink, we'd recommend their delicious iced lavender vanilla latte!
Just the Drip | San Antonio, TX
#WomanOwned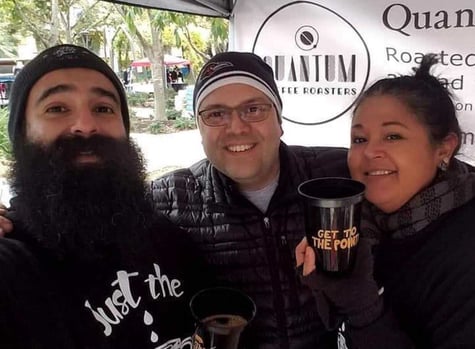 (Photo credit: @justthedripatx)
Denise Aguirre co-owns and operates The Point Park & Eats, a destination for refreshing craft beer, delicious rotating food trucks, and home to Just the Drip coffee house. Just the Drip serves up locally roasted coffee and espresso in collaboration with Quantum Coffee Roasters, in a cozy, eclectic cafe.
What to order: Stopping in? You can't go wrong with Just the Drip's Horchatte (horchata latte) made with sweet rice milk, cinnamon, and a double shot of espresso.
#WomanOwned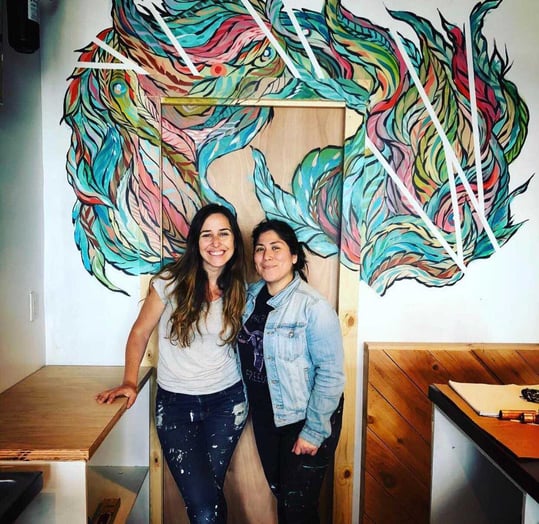 (Photo credit: @resistenciacoffee)
Resistencia is a mission driven cafe in the heart of the South Gate neighborhood of Seattle. One wall of the cafe reads the a definition of Resistencia: "A local community standing up against adversity with relentless hope, and care for everyone in the neighborhood". Owner Coté Soerens (left) has created a local cafe, serving locally roasted coffee and local pastries, all for her local community members.
What to order: If you're visiting Resistencia, their signature Xingona Latte should be your first choice, made with brown sugar, cinnamon and a pinch of cayenne!
Brewpoint Coffee | Elmhurst, IL
#WomanOwned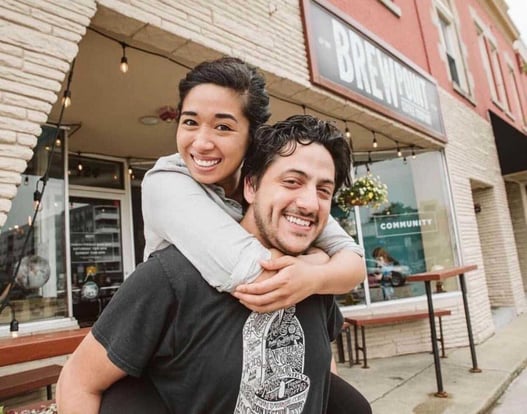 (Photo credit: @brewpointcoffee)
Meet Melissa Garcia Villanueva, founder and CEO of Brewpoint Coffee in Elmhurst, IL. She had a vision of creating an authentic space for her community to gather, and grow and coffee happened to be the avenue. She put her passion into practice with her now husband Angelo. Together they've built three cafes, a robust roasting and wholesale program, and more all centered around authentic community and celebrating local craft. We highly recommend paying them a visit.
What to order: The Borealis made with oat milk, sweet nutty & honey base, plus cinnamon, espresso is a fan favorite, hot or iced!
#WomanOwned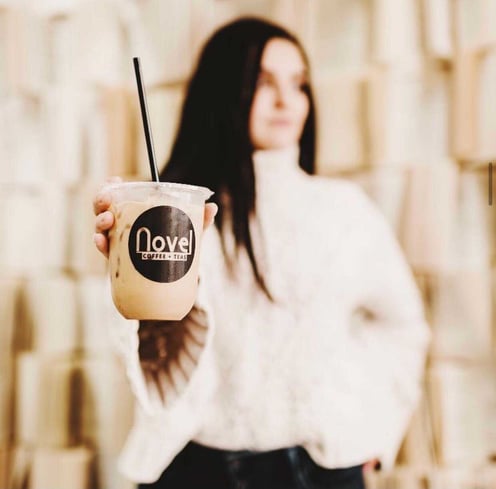 Novel Coffee & Tea is housed inside Richland's public library and is the perfect place for customers to grab their favorite book, a locally roasted coffee from Novel, and curl up for the afternoon.
What to order: Any of their Specialty drinks, cleverly named after things you'd find in a library, are an excellent choice. But the Author, made with hazelnut, chocolate, and praline pecan syrup is a hug in a cup.
Do you know of a Latinx-owned shop we haven't featured? We want to hear about them to celebrate their success and further share their story. joe brings together a network of unique and diverse coffee shops across the U.S. for coffee lovers to support. If you're interested in joining the network, email us at success@joe.coffee!