Growing a loyal customer base is a challenge in itself for independent coffee shops. Learn how joe partner Honu Coffee continuously converts new mobile users month over month with a strong online presence and joe.

Acquiring new users at Honu Coffee
Honu Coffee in Newhall, CA has not only kept their doors open and operating during COVID, but continues to grow their customer base despite strict regulations.
This Hawaiian themed coffee shop offers a quaint, coastal atmosphere and is known for their deliciously smooth nitro cold brew. With every cup of coffee, they strive to "serve with excellence and a genuine heart". Like many indie coffee shops, in the 6 years they've been open, Honu has cultivated a supportive following from the community.
Even though they are operating under some of the tightest COVID restrictions, their strong reputation paired with online ordering has helped to safely bring in new customers and retain existing ones.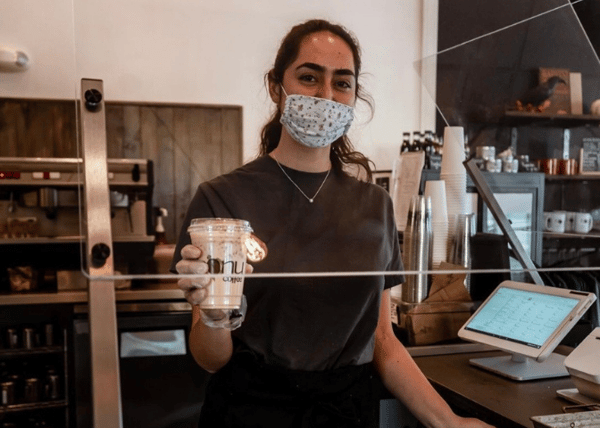 Photo credit: @honucoffee
The Goal: Bring in customers during COVID
Coffee shop owners and operators like Andy McKean, Manager of Honu Coffee, are trying to answer the question "how can we bring in new business?" Better yet, is there a way to bring in new business without too much extra work?
Like many indie coffee shops, Honu offers a unique in-house experience and depends a lot on word of mouth to attract new customers. But with a limited number of potential customers walking through town and window shopping, word of mouth only goes so far. Their online presence is proving even more important to attracting new customers.
The Tool: Social Media and an Online Menu Link
From the start of the shut downs in LA county, Andy and his team understood that potential customers shifted to browsing online first before deciding where to shop, making their social media pages and business websites crucial marketing tools. "When COVID hit, we took initiative to post every single day on social media to communicate and market to customers", Andy shared. Every one of Honu's online platforms points to their website that further showcases their brand and the experience customers will receive when they choose to visit.
Then a prominent button to order online with joe, is the ticket to converting those browsers to joe users. The instant customers decide they want to try Honu Coffee, they have a seamless way to place their first order.
The Result: Converting 150 new users every month
"We have a super supportive community and get really good word of mouth", Andy shared, "and with joe, it's so easy for new customers to safely try us out and returning customers can safely order their favorites".
Shifting their investment to marketing online with social media and their website, plus funneling online traffic to mobile ordering continues to pay off. Since May of 2020, Honu Coffee consistently converts at least 125 new joe users each month. They have more than 2,000 users ordering at their shop, that total to more than $15,000 of incremental revenue per month on joe.
Honu has worked for years to build a unique experience and an unbeatable service within their community, and a global pandemic isn't stopping them from doing what they do best: safely serving delicious coffee.