9 Must-Visit Los Angeles Coffee Shops
9 must-visit indie coffee shops in the greater LA area. From eclectic spaces to mission-driven owners, read about these unique shops then visit them all!
---
In this edition of our joe Coffee Passport, joe Partner Success Manager Cassidy takes us through 9 of her favorite coffee shops in the greater Los Angeles area. Read on then order on joe and pay them a visit.
Must-visit coffee shops in Los Angeles
As a Partner Success Manager for joe based in Los Angeles, I've had the pleasure of getting to know the indie coffee scene around L.A.
Working with the owners, managers, and baristas has given me a greater appreciation for the way independent shops connect the members of their communities. Coffee offers more than a morning jolt. The culture and craft inspires people in so many different ways giving us a vast network of unique shops.
Here are some shops in the greater Los Angeles area you can try - and order ahead on joe!
8015 Long Beach Blvd B, South Gate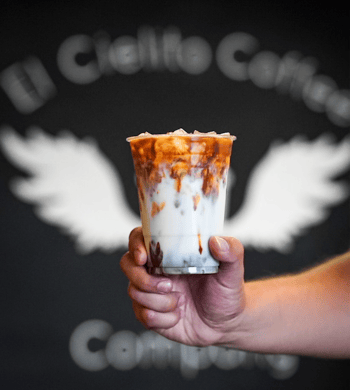 Photo courtesy of El Cielito Cafe
If you're around South Gate, El Cielito Café is a no-brainer. El Cielito's goal from inception was to represent, respect, and contribute to the Latino culture and community. You can find numerous specialty items inspired by Latino flavors, including a Mazapan Latte, Guayaba Matcha Latte, and Dulce de Leche Frappe.
El Cielito prefers to purchase their beans directly from farmers in Nicaragua, Guatemala, El Salvador, Honduras, and Costa Rica. Doing so ensures higher margins for these farms, and also allows for other enrichment programs, like building a school in Nicaragua and funding an all-women farmers program in Costa Rica.
"Each coffee bag sold is a step closer to improving the lives of every hand that touched it, from the planter to the crafter. What separates El Cielito the most is its commitment to helping the farmers while providing exceptional coffee as well as helping out the Latinx community," El Cielito owner, Daniel Olivares, explained.
2507 Mission St. San Marino
When you want sit under an umbrella, soak up sunshine and enjoy a relaxing brunch with friends, look no further.
Linda and her team have cultivated a community staple with San Marino Cafe - they adapted quickly when COVID first hit to provide groceries while maintaining a full food and drink menu. They're dedicated to partnering with local brands, and have everything from local teas, coffees, pastries, and even chili oil.
Stop in for a lavender breve, their iconic SMCM Bodega Breakfast Burrito, and the best shortbread cookie you've ever had.
4610 Eagle Rock Blvd, Los Angeles & 3320 Sunset Blvd, Los Angeles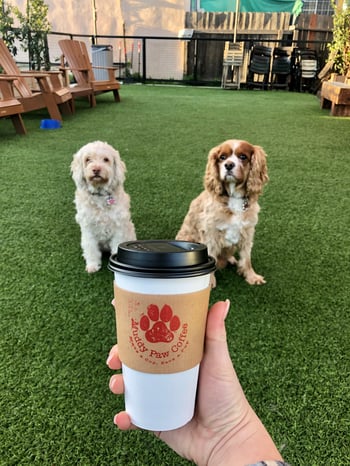 Muddy Paw Coffee has two locations in Silverlake and Eagle Rock. The coffee is delicious, they have a full line of vegetarian and vegan empanadas and pastries, and the Eagle Rock location has a dog park for your furry little friends.
Both spots are dog-friendly, and every purchase made at Muddy Paw benefits Karma Rescue, a local non-profit that works on numerous programs to save and take care of vulnerable dogs. Take a breather with a Puppy Love Latte (made with real vanilla) and a mushroom empanada while your pup gets their sniffs in.
1700 Browning Blvd. Los Angeles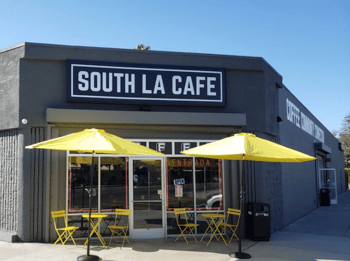 Photo by Mclaughin S. via Yelp
South LA Cafe is a Black-owned, family-owned, and community-owned shop and cultural center located in South Central Los Angeles and is a definite must-visit.
You may have seen owners Celia and Joe live on Instagram, or caught their feature on Ellen, and one thing always shines through - their passion for enriching their community. Each week, they give away grocery boxes to community members and host a variety of other events, such as free COVID testing and mobile vaccine clinics.
They're a hub for South LA, where you can find handcrafted drinks, delectable coffee cake, and photo-worthy avocado toast.
12147 South St, Artesia & 16500 Bellflower Blvd Unit C-100, Bellflower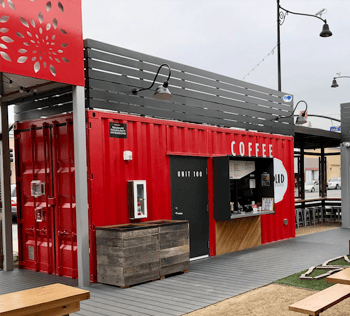 With locations in Bellflower, Artesia, and a new roastery in Downey, Solid Coffee's got you covered. The Bellflower location is housed in Steelcraft, an urban outdoor eatery with a communal dining space where all businesses are built in shipping containers.
"One thing that does set us apart is that we make most of our syrups in-house. It's not always convenient, but we're proud of the quality of what we serve, our roasted coffee included," manager Daniel Cho said.
You can visit their flagship location in Artesia, where their original roastery is. It's also available to rent for anyone wanting to learn the ins and outs of coffee roasting.
If you need a place to study, relax, or hang with friends, stop by either location and bask in their signature chai latte, made with tea and spices from the local Indian supermarket, or their vanilla bean latte, made with actual vanilla beans.
4331 Degnan Blvd, Los Angeles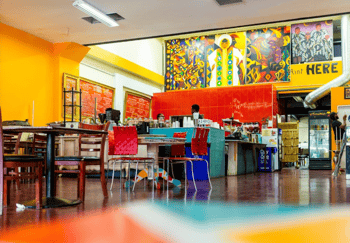 Photo courtesy of Hot and Cool Cafe
Another South LA staple located in historic Leimert Park, Hot and Cool Cafe is a Black-owned hub and creative space to check out art, live music, and enjoy healthy food and delicious coffee. Since COVID started, Tony and his team have supported the community by feeding seniors weekly. They regularly host events in the cafe, like open mic nights and educational conversations with social leaders.
Stop by to check out the colorful and people-centric vibes and grab one of their great vegan offerings, like a breakfast burrito or quinoa bowl to pair with their signature Honey Latte.
6312 E. Santa Ana Canyon Rd. Anaheim Hills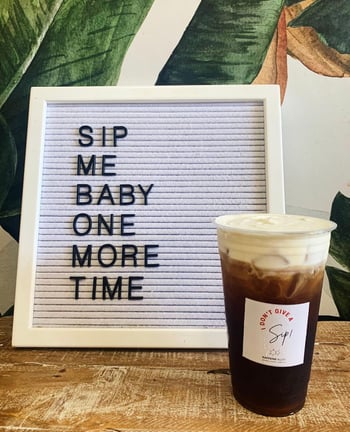 Photo courtesy of Kaffeine Alley
For all of the organic, boba, and clever-marketing lovers, Kaffeine Alley is the place for you. This Vietnamese, woman-owned and operated shop in Anaheim Hills has a curated menu of organic teas and coffees, paired with house-made syrups and flavors. Owner, Jenn created a unique space that is inspired by multiple cultures, while staying rooted in Vietnamese tradition.
You can find a classic Thai Milk Tea, Viet Crack (slow-dripped Vietnamese coffee with condensed milk), or the Fruity Pebbles Milk Tea, along with a variety of food options, like a grilled Cheddar PB & J Sandwich. Come for the quality of offerings, stay for the witty sayings shown on every cup and throughout the shop.
155 W Center Street Promenade, Anaheim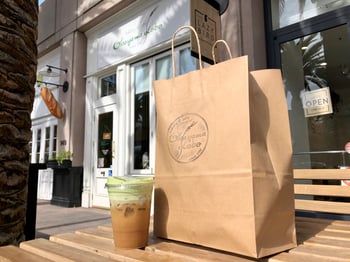 Okayama Kobo, located in Anaheim, is one of those gems that has something for everyone. With a full selection of handmade pastries and a full coffee and tea bar, you're sure to find a treat no matter what mood you're in.
Their mission is to "make it easy to grab a fast, craveable meal without compromising quality or service" and they exceed that. Their Matcha Sea Salt Cold Brew is unsurpassed and so refreshing. Order on joe and try for yourself!
350 Main St. Unit A, Seal Beach
When you're feeling a trip to the beach trip and need some caffeine, check out Humblemaker Coffee. The laid-back shop sits just blocks away from Seal Beach and is the perfect afternoon pick me up. This cafe has some of the coolest crew around, with menu and merch to match. If you're not in the area, but still want some Humblemaker in your life, be on the lookout for their iconic Cold Brew Shots, available at Gelson's.
How many shops on the list have you tried? Who do you want to be featured next time? Let us know at success@joe.coffee.
You can order from any shop featured, and see a full list of LA partners, by going to order.joe.coffee.