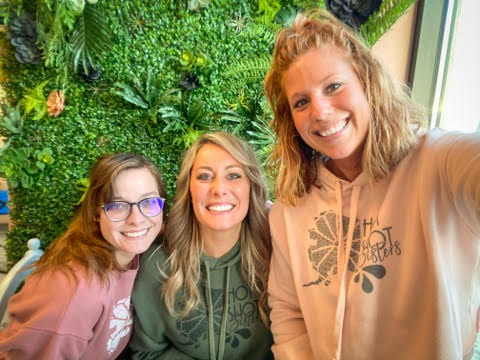 Left - Right: Kourtney (Trainer & Executive Assistant), Krystal (Owner), Jenny (Operations Leader)
Highlights
Boosts revenue by ~20% during typically slow months
Customizable menu is perfect for a cafe with lots of food items
Increasing monthly mobile transactions over 20%
The Hot Shot Sisters Story
Krystal Wester was born to be a coffee business owner. At only 19, she opened her first drive thru coffee stand in Hawaii on the military base where her family was stationed. When fate brought them back to Fairbanks, Alaska she took the opportunity to harness her degree and newly-earned business experience to become a serial entrepreneur opening several small businesses over the last decade.
In the summer of 2019, Krystal was once again called to coffee and launched Hot Shot Sisters - 10 years after her first coffee venture.
Hot Shot Sisters reps the motto "Stay Fresh!" The shop brings healthy options to on-the-go customers that need a convenient pick-me-up, especially during the frigid winter months. Her shop serves fresh pressed juices, smoothie bowls, and of course a variety of espresso of drinks to bring a little extra sunshine to her Fairbanks community.
Krystal and team take a clever approach to giving back to the community they serve with a program they call "Hot Shot Crusade" drink of the quarter. Every time a customer orders the signature themed-drink, Hot Shots Sisters donates $1.00 to a new local non-profit each quarter. The program is a great best practice for shops looking to give back AND educate customers on promising new drinks from the menu.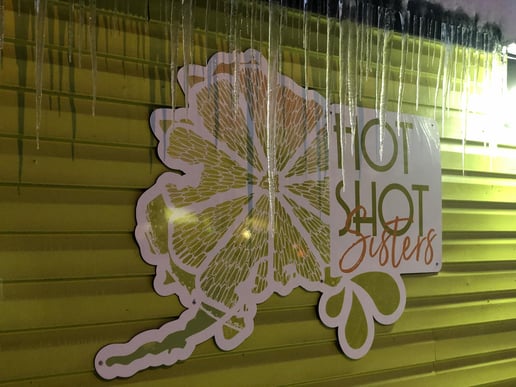 "A fun pic of Hot Shot Sisters Drive Thru enduring the cold winter... icicles are a part of life in this Frozen Tundra & community we call Fairbanks. It's the largest furthest north city in AK." -Krystal
Why Mobile Ordering?
Alaska winters are brutal! Krystal knew to keep her business strong year round she needed a way for her customers to order her food and drinks regardless of the frigid temps - Especially for her regular customers at nearby gyms.
With 32 different food items and a diverse drinks menu spanning coffee and fresh-pressed juice, the ability to accommodate robust food and drink modifiers were an absolute must.
"We wanted a system for people to preorder, and something that could cater to a juice bar and smoothies." - Krystal Wester, Owner of Hot Shots Sisters
Why joe?
So in November of 2019, Krystal and her business partner headed to CoffeeFest PNW knowing it was the perfect place to find a solution that could take their customer experience to the next level.
After speaking to the joe team, Krystal was able to demo the joe process from the point of view of a customer and a barista. She was sold on the full-featured menu customization and ability to tailor modifiers to every food and drink category on the menu. From a customer perspective, the experience felt worthy of the Hot Shots Sister brand she had worked so hard on refining.
To start, Krystal set up a dedicated parking spot where they can walk out orders if there happens to be a line. The extra steps to serve mobile orders during busy time is well worth it, helping to ensure loyal customers never have to pass her up - even if there is a line.
Business Impact
Despite a seasonal lull of a 20% decline on average that hits most of the coffee industry during the winter, Krystal has been able to keep revenue steady with help from joe.
After just two months on the network, Hot Shot Sisters is seeing growth in their daily orders. After doing over $1,500 in sales their first month they are on track to reach nearly $3,000 by the end of their third month using joe.