When it comes to your Google Business Profile, it's all about local.
46% of all Google searches are looking for local information. And 72% of consumers that did a local search visited a store within five miles.
The explosion in growth for online ordering has made every coffee shop's Google Business Profile a major tool for growth. Not only can you make a good first impression, people are more likely than ever to order digitally before ever stepping foot in your shop.
"Near me" or "close by" type searches grew by more than 900% over two years.
Ask yourself, when potential customers searches "coffee shop near me" will they find you and be enticed to visit? If so, is your online ordering doing the work for you of making it easy for new customers to make that impulse purchase and bring them back over and over again to grow your bottom line?
In today's hyper-local, mobile-first world, that's exactly what you should expect. To help you make the most of the growing opportunity that Google Business Profiles present, here are 4 ways to optimize your coffee shop's Google Business Profile.

1 - Location, Hours & Contact Information
97%

of people learn more about a local company online than anywhere else. (Source:

SEO Tribunal

)
When a customer finds your basic operations info should be accessible and reliable. Consistency is key for a trustworthy experience. So double check hours of operation, business address, and phone number! Also, Google Business often sends reminder emails about updating hours for the holidays, doubling down on consistency for your customers.


2 - Online Menu or Website

61% of mobile searchers are more likely to visit a local business if they have a mobile-friendly site
This day and age, a solid online presence is a big indicator of reputation for customers. An easy to navigate and visually appealing menu communicates to consumers that their experience in shop will be just as trustworthy.
A common misstep from coffee shop owners is not prioritizing their online menu because they serve a population of the community who isn't as tech savvy. While that might have been true a few years ago, it's not anymore. In just the last 5 years, smartphone ownership has jumped from roughly 2/3 to over 85%! As that adoption has increased, mobile searches of terms like "coffee near me" has tripled and created a huge opportunity for coffee shops to connect with potential new nearby at the exact moment their intent is highest.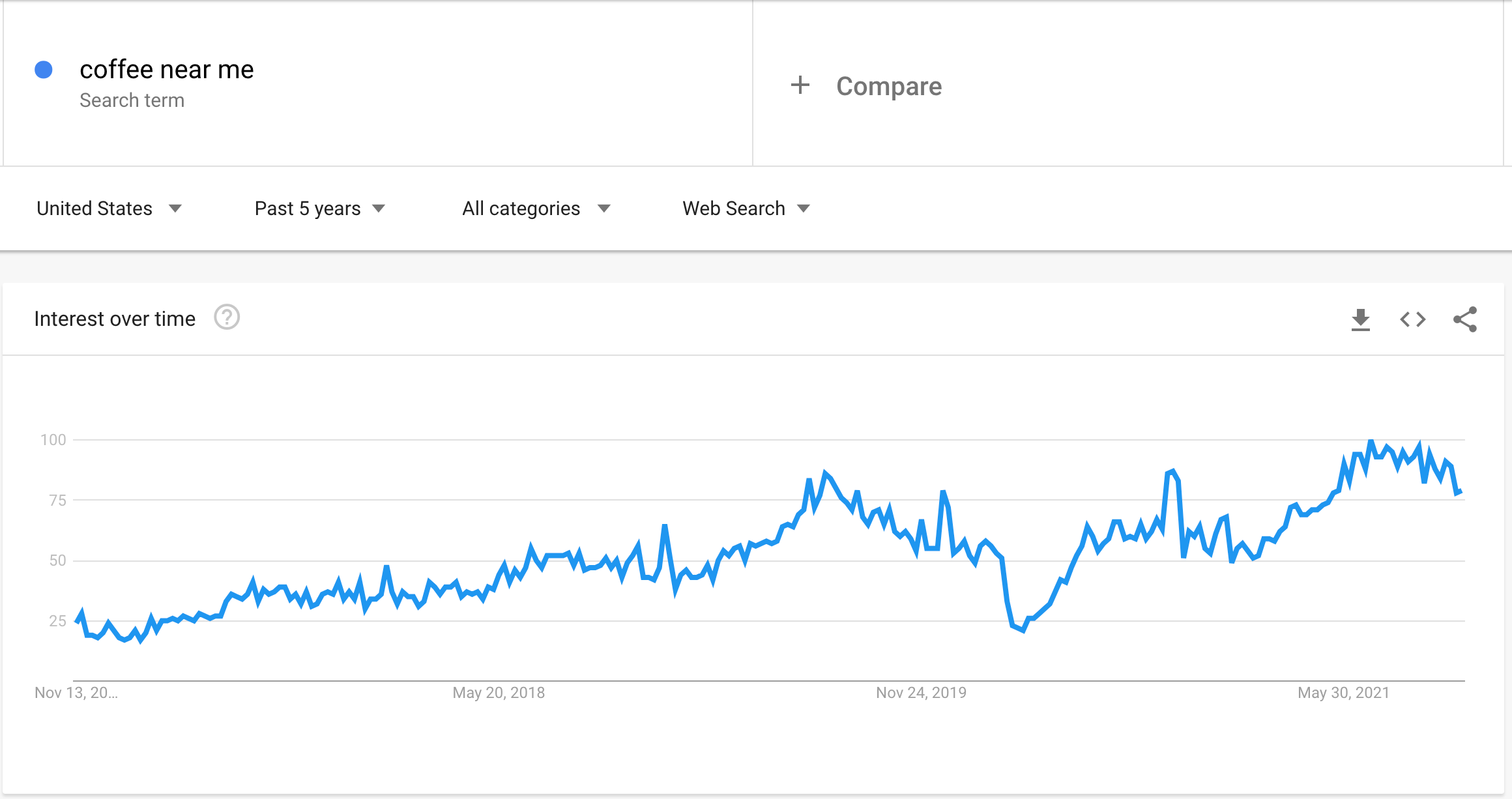 At joe, we focus on making it affordable and convenient to convert these users with our best-in-class web ordering featuring beautiful images of your offerings, featured items, and up-sells at checkout for just 2.9% per transaction. That saves coffee shops $0.20 - $0.30 per order if you're using generic solutions from your point of sale and is about 1/10 the cost of accepting orders through other marketplaces.

3 - Customer Reviews
88% of consumers trust online reviews as much as personal recommendations
Reviews matter... a lot. In fact, in today's world people trust online reviews just as much as word-of-mouth. It turns out, there is a sweet spot in the impact reviews make ranging between 4.0 stars and 4.7 stars. Above 4.7 stars and people don't think they can trust it or might suspect you "gamed the system". So while you don't need to leave yourself a bad review, don't be too worried about every review not being a 5 out of 5.
When it comes to reviews, more is more. People know that the more people that leave a review, the more trustworthy the rating is. If you're lacking reviews, reach out to your loyal customers, and try offering an incentive to customers who leave you a review.

4 - Preferred ordering options
39%

of smartphone users are more likely to browse or shop a company's mobile app because it's easier or faster to make a purchase.
Google Business makes it simple to market your ordering options to your customers. If your shop is categorized as a Cafe your preferred ordering options will automatically be listed as an Order Online button.
It's important that you are strategic in choosing the online ordering solution that you put front and center for customers. A common mistake here is adding expensive marketplaces like DoorDash or UberEats as an option. Remember, Google is already putting you in front of the right person at the right time with your profile. Consider which online ordering tool will save you the most money on the transaction while also providing a premium digital experience that doesn't result in customers backing out. At joe, we know how important it is to save on costs and provide an industry-leading rate of just 2.9% with no flat fee per transaction and the most popular digital ordering experience in local coffee.
Attract new customers, save on every purchase
New and existing partners who list joe as their exclusive ordering option on Google Business see up to 30% lift in new customers and pay an industry-leading 2.9% (no flat fee per transaction!) including payment processing per transaction. To sweeten the deal, when you make joe the exclusive online ordering link in your Google Business profile, you can lock in a lifetime rate of 7% including processing.
Interested? Register below, or email us at success@joe.coffee.