In your final week of the First 30 Day program, this promo brings in customers during generally slow times of the day. Read on for best practices for promoting this Happy Hour deal.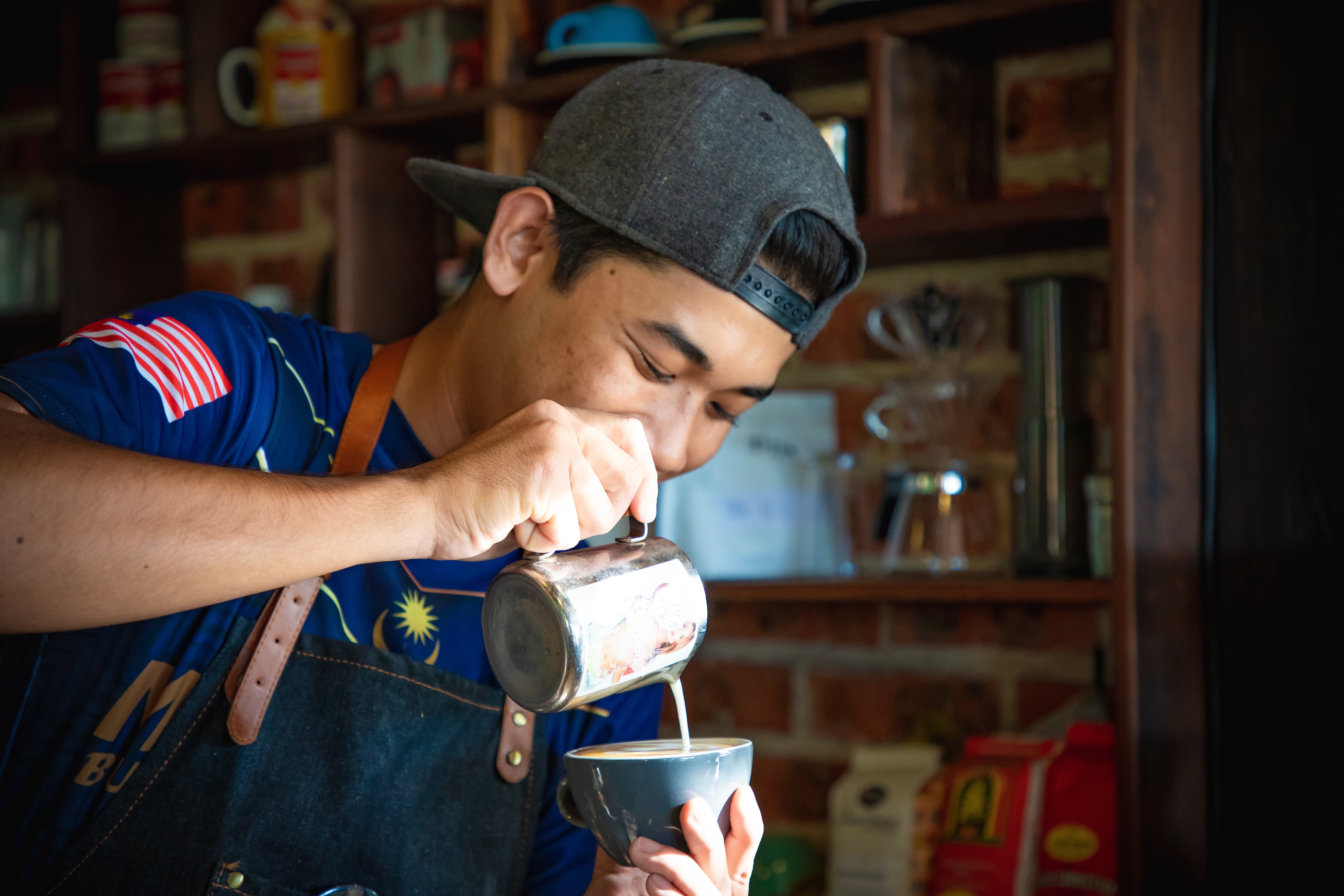 WEEK 4
This article is a part of Launch Program series guiding you through your first 30 Days on joe. Each week we offer a new deal that your customers will love, along with best practices for you to help market and boost your monthly revenue through joe. Your goal of 100 orders in your first month is now well within reach!
Through joe, your shop is in the pocket of your customers and you will always be top of mind. So this final joe-sponsored offer will encourage customers to come back at a time of day when they wouldn't normally, bringing in additional incremental revenue for you.
This Week 4 article dives into the Happy Hour deal a bit more and how best to promote it to your customers.
The Deal - $3 off Happy Hour
Offering a promo code at a time of day when you have a lull is an effective way to encourage your customers to come again and spend more. This final week of your first month, the promo is all about your happy hour, and who doesn't love to save a buck?
This week, focus your messaging around savings and customers rewarding themselves after a long day. As with your deal from Week 2, promote on social media, in shop, and through word of mouth.
Before you promote:
Make sure you are online and ready to receive orders
Confirm your baristas are trained to make orders as they are received
Mark any necessary items "out of stock"
Signage
How do you normally promote a new featured drink in shop? If you promote it on a shop chalkboard, or menu board, do the same with joe and your promo! The promo lasts for an entire week, so there's plenty of time for customers to take notice and take action. And don't forget to talk about it to them!
Let's talk about it!
We can't say it enough, your customers trust your baristas above all else! If your baristas encourage your customers to use the app and give recommendations on how to use it, your customers will listen. Specifically this week, mention the deal to your morning regulars, they just might come back and redeem later that day!
Social Media - What to post and when
Your life as a shop owner is already busy, so like previous weeks, we've created the social media image for you to use. Feel free to use the creative, or post your own photo paired with the promo - either way you get all the glory!
We recommend posting about this offer on your feed at least 2 times and your story at least 3 times.
Follow similar patterns we've recommended for previous posts so you're sure to hit the important points. Use the suggested copy and images, or create your own!
INCLUDE THE FOLLOWING:
Call out your deal: $3 off order with code SAVE3
Let customers know how to download the app
Tag @joecoffeeapp
SUGGESTED COPY: It's always a good time for happy hour! This week from 3pm - close, when you order ahead through @joecoffeeapp you'll get $3 off your order! Use promo code "SAVE3" at checkout. Text "coffee" to 474747 to download the app.
Instagram Feed Photo: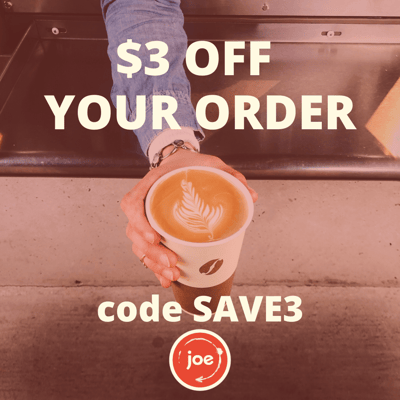 Instagram Story: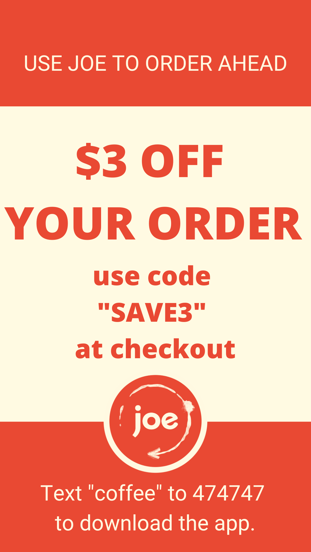 That's it!
Congrats! Your first 30 days is complete but don't stop here. We will do our part to keep your shop top of mind for customers on the app, but these tools you've used this week can continue to help you grow revenue each month. Create your own promo codes and continue to promote via social media.
We are in this together, and will continue to work with you to set and reach new goals.