Last month, we launched our largest joe promotion yet: joe 'Dolla Java Days' and are excited to extend this deal to additional markets in Texas July 2021. Here are a few questions that may pop up regarding details of this promotional offer.
1. What are the details of this promotion?
The joe 'Dolla Java Days' promotion is redeemable for $1 coffee and drinks on joe - for drink items up to $6. This promotion is valid at any participating independent coffee shops on the joe network in these 2 major cities:
Austin

, TX - code 'Java1ATX'

San Antonio

, TX - code 'Java1SAT'
Dolla Java Days offer is valid July 6th through July 31st, 2021 and is redeemable once per day, per coffee shop during the month-long promotional period.
2. Can this promo be redeemed on items more than $6?
Unfortunately, no. This promo code is only redeemable on items valued at $6 or less. We are working to expand promo code conditions so customers can redeem this $6 value on items greater than $6, and hope to have this condition live in our next iteration of this offer.
3. Is the promo code automatically applied to a customer's order?
No to redeem this promo code, customers must tap "Add Promo Code" in their cart and manually enter the code prior to checkout. The image below details this locations in the app, or checkout our support tool for more info!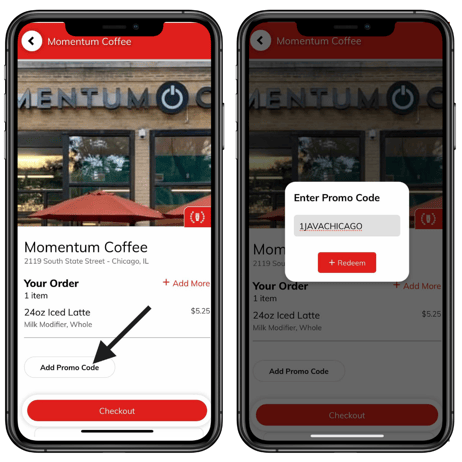 4. How often can customers redeem this code?
joe Dolla Java Days promo codes are redeemable once per day, per shop on the joe network.
5. Why is the total $0.65 instead of $1.00?
It's your customer's lucky day! We typically charge customers a $0.35 convenience fee. However, as a loyal joe customer who preloads funds to their joe account avoids the $0.35 convenience fee that would make the grand total $1.00.
6. How will my shop be reimbursed for this promo?
Just like any other joe sponsored promotion, your shop will be reimbursed for the full value of this deal. You will see this promo reimbursement in reports after your next bank transfer.
Have additional questions? Check out our joe Support Tool for additional answers, or reach out to a joe team member at PartnerSupport@joe.coffee.