Kick off your 30 Day program with a sweet deal for customers and baristas! Here's how to promote your Week 1 joe promo: 50% off any item.
Week 1
Welcome to the start of your 30 Day Launch Program! This program offers weekly deals that will get customers excited, and provides you the tools and resources to succeed on joe. Your goal is to get 100 orders in your first month and this program is here to help you reach that goal. Shops that execute this program properly can expect $2k - $3k of incremental revenue within their first 60 days on the network. Once customers try the app, we will do our part to bring them back and you can focus on what you do best: making exceptional coffee!
This article is the start of our 30 Day Launch series, where we break down week by week, your first 30 days on joe. This article centers around your Week 1 and some best practices for promoting in person and through social media.
The Deal: 50% off any drink
We get it - nobody likes change! But trust us when we say, both your customers and your baristas will love this time saving app! So for your first week, we are giving your customers a small incentive to download the app and try it once. Who doesn't love saving time and money?
Before you promote:
Make sure you are online and ready to receive orders
Confirm your baristas are trained to make orders as they are received
Mark any necessary items "out of stock"
Signage
Do you have a chalkboard in shop or use window paints to promote something new like a specialty drink? Do the same for joe! They are creative and effective :) Don't forget to include the deal and the promo code!
Word of mouth - talk about it!
We can't say it enough, you customers trust your baristas above all else! If your baristas encourage your customers to use the app and give recommendations on how to use it, your customers will listen.
Hot Shot Sisters in Fairbanks, AK has a huge food menu and successfully promoted joe to their customers as a time saver. Read about their success from owner, Krystal Wester.
Social Media - What to post and when
Similar to your joe partnership announcement on Instagram, post about this first deal on your Instagram feed and on your story. Then add it to your instagram highlights reel for safe keeping! (Here's a refresher on how to do so). Our brightly colored cards are eye catching and perfect for attention grabbing photos! Add the promo code and expiration dates in the caption or in text on the story.
We recommend posting about this offer on your feed at least 2 times and your story at least 3 times.
Need some inspiration? We've provided a suggested caption as well as some creatives that you can easy copy and paste to your Facebook or Instagram.
INCLUDE THE FOLLOWING:
Call out your deal - 50% off any drink
Promo code JOE2GO
The Call-to-action - Let customers know how to download the app
Tag @joecoffeeapp
Suggested Copy: We are now officially live and accepting mobile orders with @joecoffeeapp! Order ahead we will have it ready when you arrive - just look for the joe pick up sign. To celebrate, we are giving you 50% off your drink all week long when use code JOE2GO at checkout! But hurry, this offer won't last. Text "coffee" to 474747 to download the app.
Instagram Feed Photo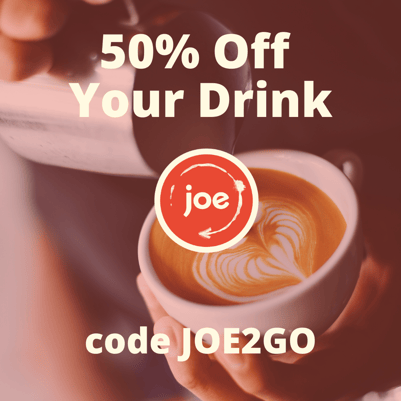 Instagram Story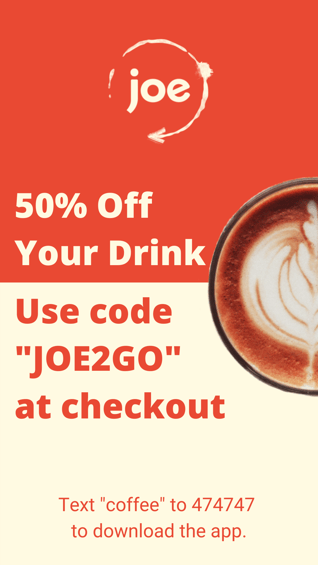 DOWNLOAD WEEK 1 CREATIVES HERE
Get after it! It takes several times before a customer is going to try something new. So be patient and continue to promote it in person and over social media so they never forget. Up next is your Week 2 deal and tips to win over even more customers!